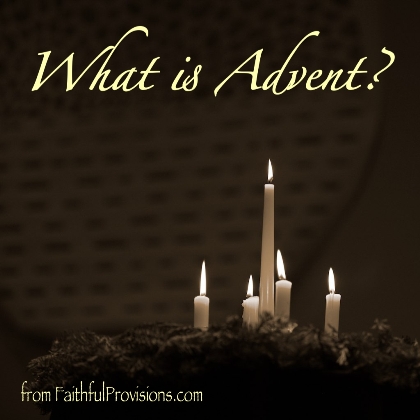 A lot of people have been asking me, "What is Advent?" My family celebrates Advent every year, and I'm so excited that it's time to do that once again. I want to share a few things with my readers about what Advent is and why we celebrate it. It definitely brings the true meaning of Christmas home to me, year after year. It's like a pause in the whirlwind of activity that lets you rest and focus on what Christmas is all about.
What is Advent?
What is Advent? Well, technically,"advent" means coming or arrival.  It begins on the fourth Sunday before Christmas Day, which is going to be the Sunday nearest November 30. It ends on Christmas Eve, December 24. Advent celebrates the coming or arrival of Jesus Christ.
The Advent Season
One of the things I love about the Advent season is that Christmas is not limited to a couple of days. The season of Advent invites us to take four weeks to relish the anticipation, the atmosphere, and yes, the attitude of Christmas! And it's not that we're anticipating Christmas Day even as much as we, as Christians, can focus on looking forward to the Second Coming, or Second Arrival of Christ. So the Advent season is this wonderful time of looking back at the event that changed the world over 2000 years ago: the Birth of Jesus Christ (the past). It is looking ahead to when He returns (the future). And it is also a time for family and individual celebration as we reflect both together and personally on where we are in this place of being in-between (the present).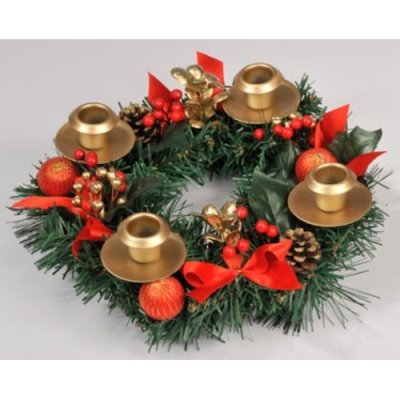 Advent Wreath
If you're going to celebrate Advent, you will need an Advent wreath.  The Advent wreath is what holds the candles. You'll be lighting a candle each night of Advent. The Advent wreath is a symbol in and of itself and an essential component of Advent, symbolizing the enduring, everlasting, never-ending love of God.  Advent Wreaths are available at Christian bookstores and on Amazon. I especially like th Berry Advent Wreath HERE (pictured above) and this Advent Wreath with the purple ribbon HERE. Be sure to purchase one that is non-flammable ( made with fire-safe material). You can learn more about the meaning of the Advent Wreath HERE.
Advent Candles
You'll also need to purchase candles. Each night of Advent, you'll be lighting candles. You can buy these in sets with the Advent wreath, or purchase them separately. There are a total of five that you will need: 3 purple, 1 rose colored, and 1 white candle for Christmas Eve. Each candle is significant. Its color means something each week as you head toward Christmas Eve. Christian bookstores carry Advent Candles, but you can look for the colors anywhere you typically purchase candles, including your favorite crafts or discount store. You can discover more about the meaning of the Advent Candles HERE.
Advent Prayers
Because Advent is celebrated by Christians, both Catholic and Protestant, there are a variety of Advent prayers that are suitable for using during your celebration. During Advent, you will light a candle on the wreath every day, and then have a time of Scripture reading, worship songs, and prayer. The first week, one candle is lit each day. The second week, you will light two, and so on as you proceed through Advent. Advent prayers are available on many online sites, or you can feel free to make up your own.
Advent Reading
Advent reading is taken from Scripture, reading passages that focus on the birth of Christ and why He came. I like the 28-day reading plan that Focus on the Family has HERE. If you have older children that are not always available every day, you might decide to focus on four readings and have a time of advent once a week, whenever you can get everyone together.
Advent Devotional Books
There are several really good Advent devotional books that are available. Use these devotionals every day of Advent to continue to press in closer to Christ and what this season is all about. I like God is in the Manger: Reflections on Advent and Christmas by Dietrich Bonhoeffer.  The Billy Graham Evangelistic Association is offering a FREE Advent Devotional Guide HERE.
Advent Tree
One of our favorite family traditions is to create an Advent Tree. I just go out to my backyard and collect several twigs and tie them together. This is what my children hang their Jesse Tree ornaments on every day.  Celebrate Advent with your children when you learn how to make your own Jesse Tree HERE.
Check out all the ways we're celebrating Christmas at Faithful Provisions on Christmas Corner!