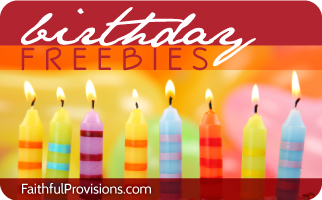 In a never-ending search to save money while going out to eat, I discovered a few restaurants (and other businesses too) that would like to help you celebrate your birthday. I'm liking the free ice cream on your birthday! Just go to each website and sign up to receive their newsletter and special offers.
If you're married, you can sign up twice – 1 for you and 1 for your husband (as long as you have different email addresses) so you can both get coupons and FREE stuff on our birthdays!
Auntie Anne's – BOGOF Pretzel Item
Applebees – FREE dessert with your meal
Baskin Robbins – FREE ice cream treat
Captain D's – FREE dinner coupon when you join D's Club
Caribou Coffee – FREE beverage, sign up online
Chili's – Free Brownie Sundae
Cold Stone Creamery – (we LOVE this place!) FREE ice cream treat
DQ Blizzard Fan Club – Buy one, get on FREE blizzard for signing up
Famous Dave's – FREE food when you join the P.I.G. club online
Firehouse Subs – FREE medium celebratory sub, just show your ID at the register
Friendly's Ice Cream – FREE sundae, register online
Genghis Grill – FREE birthday bowl, register online and join Khan's Klub
Knorr Foods –Get a coupon on your birthday
Logan's Roadhouse – FREE birthday food, register online and join Nut E Club
Macaroni Grill – FREE dessert, register for email club to get coupon
Marble Slab Creamery – FREE ice cream, register online
Moe's Southwest Grill – FREE birthday burrito, register on Moe's e World
Outback – FREE aussie-tizer for signing up
Red Lobster – FREE surprise on your birthday, plus they email you coupons periodically.
Red Robin – FREE hamburger on your birthday
Ruby Tuesday – FREE burger and fries, register online
Sonic – FREE birthday treats, register online
Starbucks – FREE drink of your choice
*To receive a free drink on your birthday, you need to have a Starbucks gift card (Rewards Card), sign up and add your mailing address and date of birth to your Rewards Card member profile and opt in to receive mail from Starbucks.
Uno – FREE appetizer with meal purchase, join Insiders Club online
Zaxby's – FREE Meal Deal
Do you know of any restaurants that give you free food on your birthday? Leave me a comment and share it with the rest of us!