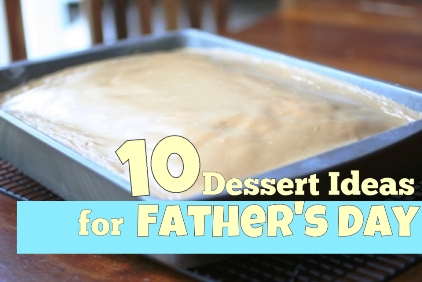 Let's spoil Dad with these great dessert ideas for Father's Day! Choose from fruity dessert recipes, smoothies, brownies and ice cream, and my husband's chocolatey favorite, Derby Pie. These ten ideas will get your mouth watering, that's for sure!
1. Mini Strawberry Dessert Pizza  – You can easily use any berries in this recipe, strawberries, blackberries, blueberries–Dad's favorite!
2. Brownies and Ice Cream – You can always find a brownie mix on sale. Mix in chopped nuts or chocolate chips, top with a drizzle of caramel sauce, or sprinkle powdered sugar on them for a unique presentation.
3. Pound cake with Fresh Strawberry Sauce – A store bought pound cake from your grocer's bakery department makes this an easy dessert. Generously top each piece with this fresh strawberry sauce, and you'll get rave reviews!
4. Strawberry Bruschetta -This is something different. It's fruity and filling and absolutely wonderful!
5. Derby Pie – Loads of chocolate chips make this pie a family favorite.
6. Smoothies – If you're grilling out, smoothies go great with burgers, chops, or steaks, and they're lots of fun to make together. Start with this basic "Any Fruit" Smoothie Recipe. Let Dad choose what he wants to add in.
7. Sour Cream Cake with Caramel Icing – This is another family favorite. It's a nice break from chocolate, and much preferred by caramel lovers.
8. Cinnamon Rolls with Creamy Vanilla Coffee Icing – Perfect for Brunch!
9. Fruit Salad with Orange Marshmallow Glaze – Serve with Homemade Sugar Cookies
10. Easy Fruit Cobbler made with Cake Mix – You'll love how easy this is, then once you taste it, you won't even believe how simple it was to make!
Discover more Father's Day Dessert Ideas HERE on Faithful Provisions!