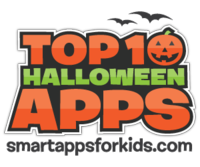 Fall is here and Halloween is right around the corner! Check out these 10 Free APPS for Kids.
Some of the apps include:
Sago Mini Monsters
Create your own colorful monster! Make your monster happy with paint, food, and decorations. When you're finished, snap a photo to share with mom and dad. Make as many monsters as you like. Each monster is unique.
Happi Halloween
Join Happi and Papi for some Halloween fun in this multiplayer game on one device. Beat your opponent by launching your spiders into the vortex before he does the same with his pumpkins.
Storybots Halloween
Cast your entire family (even Mummy) in this catchy and hilarious animated Starring You® Video and share it with all of your friends. You can upload up to five photos and dance with the StoryBots as a vampire, ghost, werewolf, mummy, and even Frankenstein's monster!