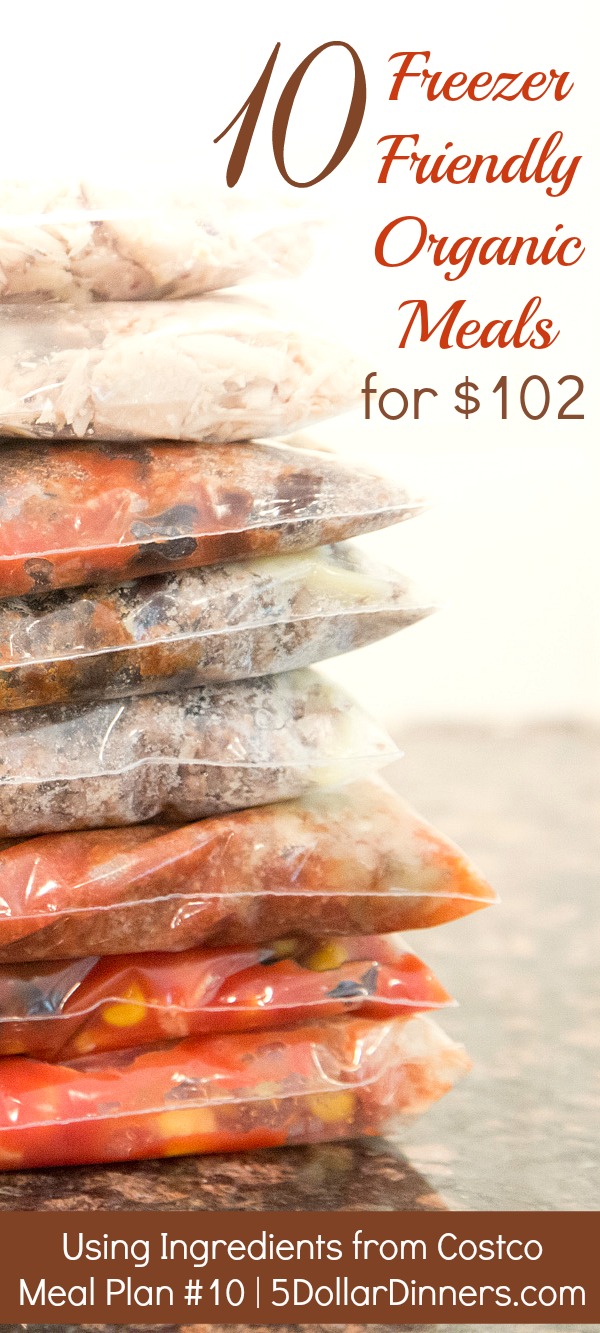 My friend Erin at 5 Dollar Dinners just came out with a brand new meal plan from Costco and it's using all organic ingredients!  Using her meal plan, method and grocery list, you can make 10 Organic Freezer Friendly Meals in less than an hour.
Here are the recipes she will help you make:
(2) Chicken Tortilla Soup
(2) Chicken Taco Salad
(2) Beef and Black Bean Nachos
(2) Sloppy-Cheesy Joe Sandwiches
(2) Grilled Cheese and Tomato Soup
Get the Freezer Friendly Organic Meal Plan from Costco Included: 
Warehouse Store Shopping List – one shopping list for the warehouse store (this list can be easily adapted for any grocery store!)
Complete recipes list – recipes for all meals included(including 2 bonus homemade spice recipes!),
Assembly prep instructions – outline of how to get everything prepared for the assembly of the meals.
Assembly instructions – complete step-by-step listing of how to put all the meals together so you don't waste a minute of time in the kitchen.
Assembly video instructions – video of Erin putting all the meals together so you can watch the video of the assembly process so you don't feel alone in your efforts!
Printable labels – included for 4 freezer-friendly recipes.
Grab your 10 Freezer Friendly Organic Meal Plan from Costco here.