This shop has been compensated by Collective Bias, Inc. and Walmart Family Mobile. All opinions are mine alone. #Tips4Trips #CollectiveBias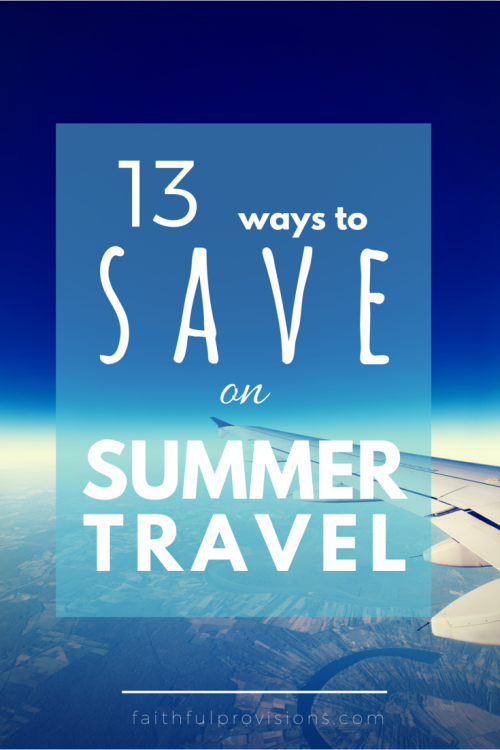 Traveling in the summer does not have to cost a lot. There are so many easy ways to save money on summer travel, and all you need is just a little planning! Most of the research I find I can even do from the convenience of my phone.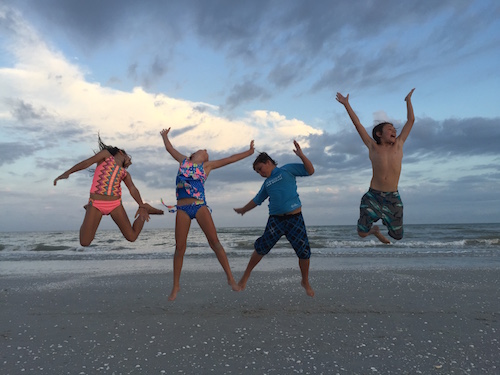 Back in April, we headed to the beach and I used my phone to plan most of the trip! From hotel accommodations and travel routes to restaurants and activities. As you can see, we had an absolute BLAST and saved quite a bit by using many of the easy strategies below.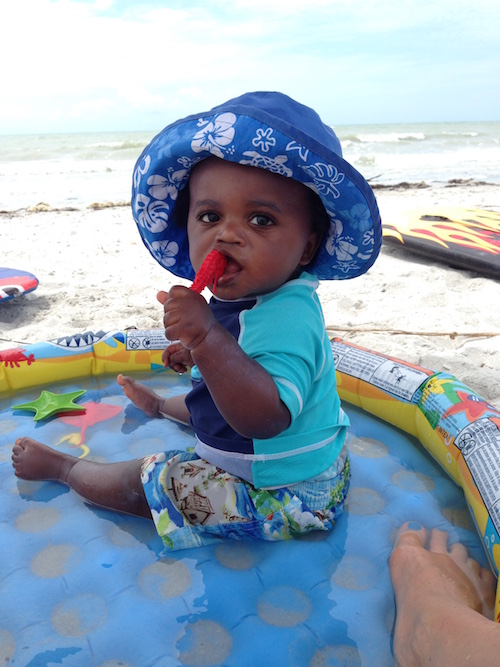 We hung out at the beach,
learned to paddle board,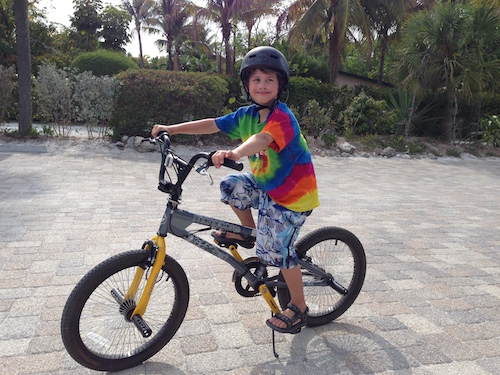 rode bikes to and from Sea School every morning,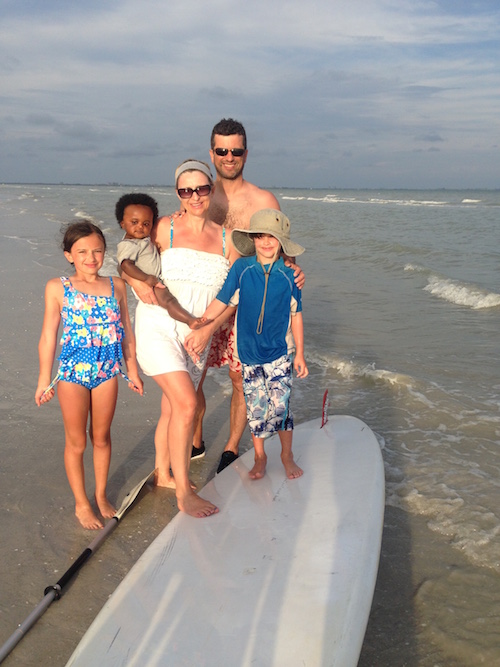 enjoyed time as a family,
and made lots of new friends and enjoyed time with treasured ones!
13 Money Saving Summer Travel Tips
1. Be flexible. Spontaneous travel can often be the most fun, but also garner the best deals. Personally, I love a last minute trip. I tend to lose interest in a trip that has been planned for a long time. If you can have a time frame or a few dates you know your family can travel, last minute deals can pull in HUGE savings. Hotels and travel packages often deeply discount days before just to fill rooms.
2. Create a travel budget. If you have a general idea of what your trip will cost, it will cause a lot less stress and really help curb overspending. List every possible expense you can think of for your trip. I include everything from the hotel, gas, and stops at rest areas along the way. One of our favorite things to do is give the kids some spending money. It really helps us prevent any whining and begging for trinkets and keepsakes.
3. Off-Season. We have found the absolute best time to travel is in the off season. That is when rates are best, did you know sometimes by just changing your travel plans by one week and get you over 50% savings at your favorite accommodations or on flights? In April, we headed to the beach for a week of sea school for the kids, and when we shifted our travel plans by a week, we saved 50% on our accommodations.
4. Ask for Upgrades and Freebies. You will be amazed at the extras you can get for nothing by just asking. Vendors for hotel accommodations to rental cars can easily upgrade you and oftentimes upgrades to a bigger car can make all the difference in your trip, it just adds to the vacation fun! When we travel, we look for hotels that we can use our points and offer free meals. These can help you save BIG. A free breakfast every morning of a seven day vacation can save you as much as $150 minimum for a family of 4.
5. Research Online Deals. By doing your research online, you will also be able to easily find coupons and discounts for your destination. It is also a great way to even scout out the best places to eat. Using mobile apps is how I find deals that aren't offered anywhere else. Many companies encourage using their apps or website to book, and in exchange they are offering some great incentives! For instance, Groupon Getaways will sell heavily discounted vacation packages, many that include airfare. For hotels, search online for promotion codes, these can usually be found on their home page, a deals/coupon page or their mobile app. Another app that offers exclusive rates is the Orbitz app.
When I am doing my research, I even checkout the restaurants. I use apps like Yelp to plan restaurants, and then I look for online deals for activities at sites like Groupon. Looking for Groupons for a city you are visiting can also help you find great activities at a fraction of the cost. One of the most surprising places to find deal is on Twitter. It has become the place that travel companies announce their "too good to be true" sales — but aren't!
7. Hotel Alternatives. Sites like Airbnb and HomeAway offer lots of options all over the world for those looking for a different, more local type of vacation. You can find private and direct from owner rentals, and these rates can be negotiable.
I have a friend who just traveled to England, she found a wonderful home to stay in for a fraction of the cost and it provided her a much richer experience to fully immerse herself into the English life. Not only was it a huge savings, but she feels she enjoyed it much more than taking the touristy route. She got to experience her destination as a local.
TIP: Bring a personal cell phone or a post-paid cell phone, like the Altcatel One Touch Pop Astro, to the rental. While most owners will tell you that you can use their phone, it's better to bring your own.
8. Go All-Inclusive. Depending on your trip, getting an all-inclusive package can sometimes save you TONS. For instance, years ago on our honeymoon, after researching what it would cost us to eat out each night, plus all the other meals, it was way cheaper for us to go to an all-inclusive resort. If you are doing a travel budget, this will make is super simple to compare the two.
9. Driving vs. Flying. For those of you with kids, this a no-brainer, but we drive everywhere we go, unless its somewhere far west. It is so much easier to take all the needs of small children, and we don't have to deal with the rental cars or taxis that are required to get to our destination when flying.
10. Save on rental cars. Did you know that prices for rental cars fluctuate constantly? If you recheck rates after you book your trip, you will probably find a better deal. Try a site like AutoSlash.com, they will check your rates, until your pickup date. If it finds a lower rate, you are automatically rebooked for FREE!
11. Save on air-fare. Have you ever purchased a non-refundable sale plane ticket to then find it goes on sale within days? Frustrating. Sites like Bing.com/travel can help you decide when to buy. Put in your itinerary, and based on historical fare data and price trends, they will tell you whether to buy your ticket now or wait. They are touted to have about 75 percent rate accuracy. It will also help you with good rates for hotels.
12. Save on gas. If you use sites like the American Automobile Association's online TripTik Tool to map out your trip, it will give you the cheapest gas stations and rest stops to fuel up. You can also use GasBuddy.com to find the cheapest gas at each stop you make. I actually use this at home to find the best gas prices in my area.
13. Save on food. This might be the area we overspend the most. We find that lunch prices are always way cheaper than the exact same dinner menu entrees. Instead of making dinner your main meal, take a longer and much more budget friendly lunch with the family and opt for a more a dinner in at night.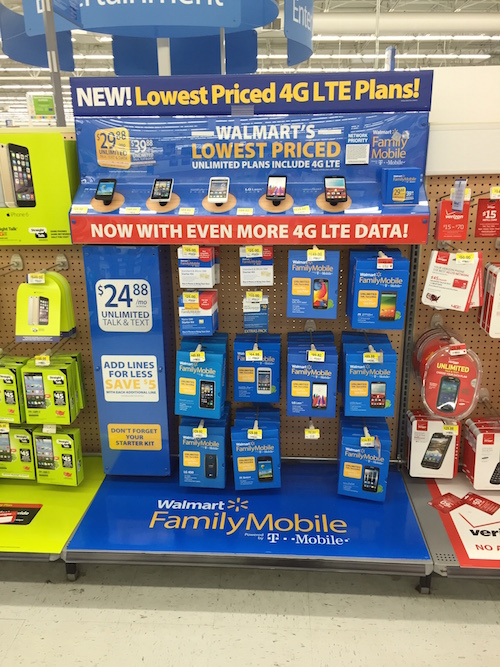 If you are heading out this summer, be sure to checkout Walmart's Family Mobile service at just $29.88/month (for the first line) Unlimited Talk, Text & Data service plan and includes up to 1G of 4G LTE data. Since this is a post-paid service and not a pre-paid service, with no contract, it is ideal for those of you with teens! It is set at a great price and has the lowest-priced unlimited plans. I absolutely love the Alcatel One Touch Pop Astro phone, it is a really nice phone, and I am floored at how simple it was to set up.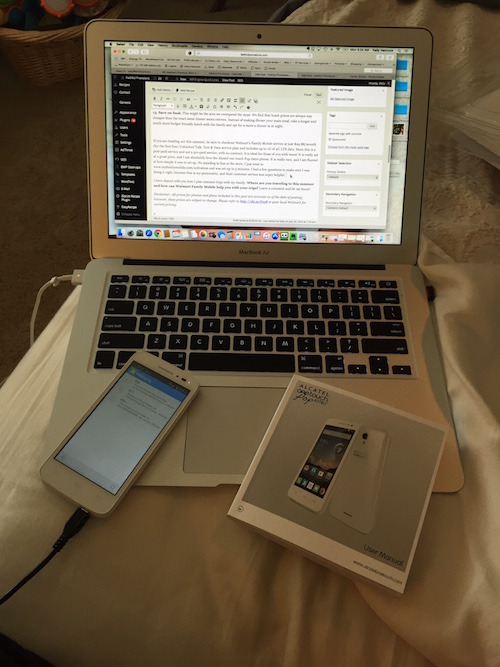 No standing in line at the store, I just went to www.myfamilymobile.com/activation and was set up in 5 minutes. I had a few questions to make sure I was doing it right, because that is my personality, and their customer service was super helpful.
I have shared with you how I plan summer trips with my family. Where are you traveling to this summer and how can Walmart Family Mobile help you with your trips? Leave a comment and let me know!
Disclaimer: All prices for phones and plans included in this post are accurate as of the date of posting; however, these prices are subject to change. Please refer to http://cbi.as/frw8 or your local Walmart for current pricing.