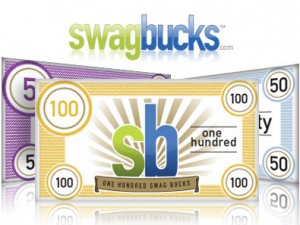 It's been a couple of years now since I started using Swagbucks, and I love it! Many of you have seen it on my site, and if you're not using Swagbucks, then you may wonder what it's all about.
Swagbucks is simply a search engine (like Google or Yahoo!) with a loyalty program! They offer points for doing your normal everyday online searches. Those points can be redeemed for things such as Amazon, Sephora, or Starbucks gift cards, iPhones, HD Digital Camcorders, and more! This is how I save out of pocket on many things.
If you are already using Swagbucks, then you are probably up for new ways to earn more! Since I've been using Swagbucks, they have added many more ways to earn points, making it easier than ever to cash in on their great prizes!
Ways to Earn More Swagbucks
Here are some of my favorite ways to get more Swagbucks!
Sign up
If you haven't signed up, just fill out this form and do it! You'll get free Swagbucks just for joining. (One account per household.)
Install the Swagbucks Toolbar
You don't have to do this, but it makes it much easier to remember to use Swagbucks for your searches. Plus, Swagbucks will often notify you of free Swagbucks codes in the toolbar.
Follow the Swagbucks Blog
This is the place to find out about giveaways, see what's new at Swagbucks, and snag more free Swagbucks codes!
Follow Swagbucks on Twitter
Swagbucks will offer "Twitter only" codes, so you definitely want in on that! Plus, Swagbucks are randomly awarded for tweeting with the hashtag #Swagbucks!
Follow Swagbucks on Facebook
A great place to find codes and search phrases!
Print your coupons
You can earn 10 Swagbucks for every coupon you print and redeem from Swagbucks. It's easy: Click on the "Earn" tab at the top of the Swagbucks homepage and then click on "Coupons." You'll earn 10 Swagbucks for every coupon you print and use—you must redeem the coupon in order to get the Swagbucks points. It will take around 3 months for the points to show up in your account, but it's definitely worth the wait!
Watch Swagbucks TV
Click on the "Earn" tab at the top of the Swagbucks homepage. Select "Swagbucks TV" from the dropdown menu. You'll earn three Swagbucks for every ten videos you view (They must be ten different videos.) Videos range in length from 1 – 5 minutes. You may earn up to 25 of these 3-point rewards in a 24-hour period. Think multi-tasking—you can leave those videos running while you are doing other work on the computer, or while tending to household chores.
Participate in the Daily Poll
Swagbucks offers one simple poll every day. To make your voice heard (and earn 1 Swagbuck!), click on the "Earn" tab at the top of the Swagbucks homepage. Click on "Poll" on the dropdown menu. Choose your answer, earn a point!
Perform tasks
Also under "Earn," Swagbucks lists different tasks that you can complete online with a point value assigned to each. Each task is different and is usually related to online research. (These can be very time-consuming and the points may not be worth it to you when you see how long it does take, but if you have a middle school or high school student who needs to learn how to use the computer for online research, this is a good starting place for them, and you can always use the points. Be sure you are always close by whenever a child is using the computer.)
Mega Swagbucks Friday
Fridays are Mega Swagbucks days where you can earn Swagbucks in increments of 100, 200, 500 and even 1000!
Participate in surveys
These are similar to paid survey opportunities, but the payoff is Swagbucks instead of cash. You have to be careful here—you may spend a lot of time with all the pre-qualifying questions only to find that you do not qualify for the actual survey.
Play Swagbucks games
If you like computer games, you may as well earn some Swagbucks while you're playing them!
Purchase Groupons through Swagbucks
If there is a Groupon deal that you're interested in, head over to the Daily Deals page at Swagbucks and go through there to make your purchase. You may earn 150 to 300 Swagbucks for your purchase!
Invite Friends
You can earn up to 1000 matching search Swagbucks for each referral you bring to the site.Don't be shy about this one. If you love Swagbucks like I do, then you're inviting your friends to an easy way to earn great prizes to enjoy themselves or to give to their family and friends!
Whereas Amazon and Starbucks used to be my favorite ways to use Swagbucks, now they've added lots of new gift cards to choose from! Check these out:
$10 CVS gift card – 1,249 SB
$10 Home Depot gift card – 1,249 SB
$10 Macaroni Grill, On The Border and other Restaurants – 1,195 SB
$10 O'Charley's gift card – 1,145 SB
$10 Fandango gift card – 1,175 SB
Sign Up for Swagbucks
Loving it? Sign up and start earning Swagbucks today!