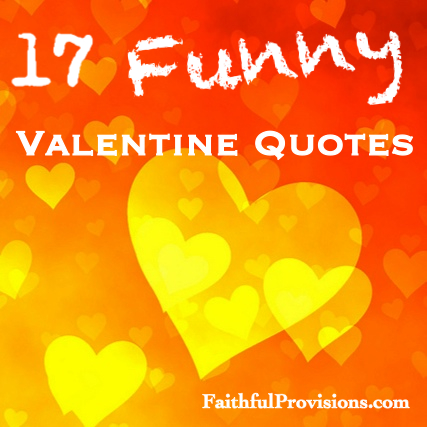 If you're looking for a lighthearted approach to your Valentine's Day cards, you'll like these 17 Valentine's funny quotes for this February 14th. I've done a round-up of funny sayings from comedians, cartoonists, actresses, authors, and even a secretary of state. See if any of these funny Valentine's quotes fit the bill for the card you're sending this Valentine's Day.
Funny Quotes about Valentine's Day
Below are funny quotes about Valentine's Day, specifically mentioning the actual day itself.
Today is Valentine's Day – or, as men like to call it, Extortion Day! ~Jay Leno
Valentine's Day: the holiday that reminds you that if you don't have a special someone, you're alone. ~Lewis Black
Oh, here's an idea: let's make pictures of our internal organs and give them to other people we love on Valentine's Day. That's not weird at all. ~Robert Pattinson (Jimmy Fallon)
David Letterman's Valentine's Day money-saving tip: Break up on February 13th, get back together on the 15th.
Funny Valentine Quotes about Men
Can't live with 'em, can't live without 'em, right? Here are some funny Valentine quotes about men.
Husbands are like fires – they go out when they're left unattended. ~Cher
I want a man who's kind and understanding. Is that too much to ask of a millionaire? ~Zsa Zsa Gabor
The only time a woman really succeeds in changing a man is when he's a baby. ~Natalie Wood
Put your hand on a hot stove for a minute, and it seems like an hour. Sit with a pretty girl for an hour, and it seems like a minute. That's relativity. ~Albert Einstein
The older theory was, marry an older man because they're more mature. But the new theory is men don't mature. Marry a younger one. ~Rita Rudner
Funny Valentine's Love Quotes
These funny Valentine's love quotes will have you chuckling.
All you need is love. But a little chocolate now and then doesn't hurt. ~Charles M. Schulz
Money can't buy love, but it improves your bargaining position. ~Christopher Marlowe
It's better to have loved and lost than to have to do forty pounds of laundry a week. ~Laurence J. Peter
A bird may love a fish, Signore, but where would they live? ~Danielle (Drew Barrymore) in Ever After.
True love comes quietly, without banners or flashing lights. If you hear bells, get your ears checked. ~Erich Segal
Without love, what are we worth? Eighty-nine cents! Eighty-nine cents worth of chemicals walking around lonely. ~Hawkeye Pierce (Alan Alda)
Love is a grave mental disease. ~Plato
Nobody will ever win the battle of the sexes. There's too much fraternizing with the enemy. ~Henry Kissinger
Check out these Funny Valentine's Poems on Faithful Provisions!

Find more of everything you need for Funny Valentines HERE, including funny quotes, poems, and cards.