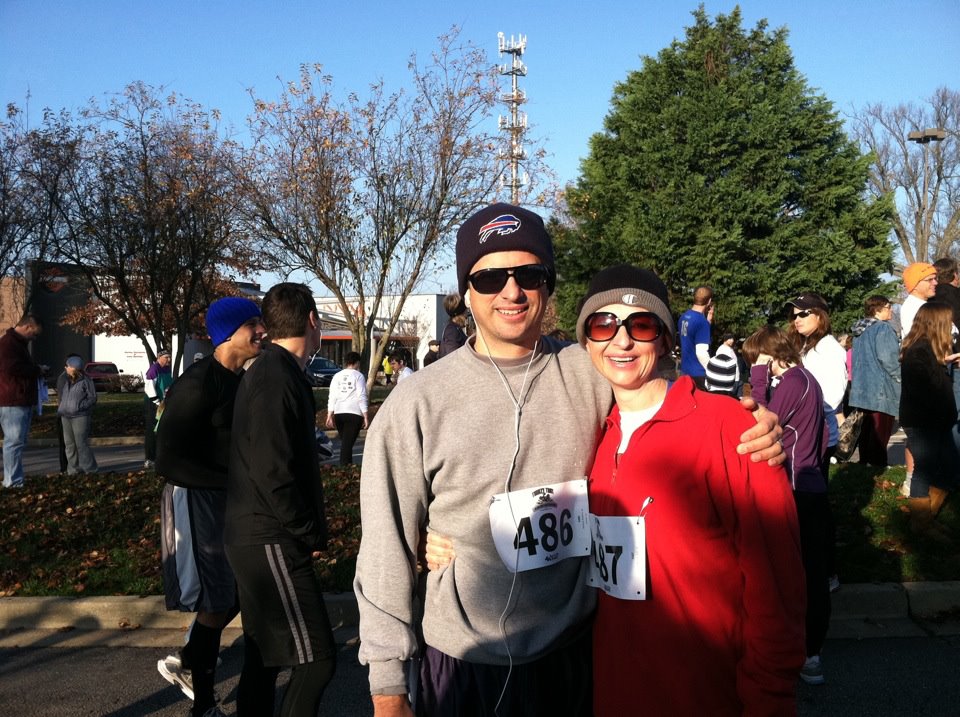 (Me and Bradford after my first 5K in over 7 years!)
2011 was my best year yet.  For me personally, it was a year of great joy and thanksgiving, the beginning of balance between my personal and work life. As I look back on 2011, I can really smile, not only at the joy God poured on me, but on all the many blessings that I am thankful for.  Thankfulness is a wonderful thing to change your perspective. It was the turning point for me this year.
I smiled more and stressed less.
I enjoyed my kids more than ever and acted on how short my time with them truly is.
I learned how critical it is to be thankful for all things, despite what the world told me.
I am not saying I didn't struggle, but this was a year where I learned to overcome. I read a lot of books to help keep me on track, but most importantly, the change for me was in my spiritual life. This was the first year I fully committed every morning to the Lord and not to my computer. My goal was to start each day giving God my first fruits, then working on the other things I needed to do. It made a big difference, but more on that later.
Be sure to checkout my Goal Setting post for ideas on how to plan and set your own goals.
My Goals for 2012
As I look at my 2011 Goals, I feel a sense of accomplishment.  Sure, there were a few things I never completed, like new series content, but there were better things I saw through, and that was what counted. For me, the purpose of goal setting is to make sure that all the things I feel are important in life don't slip through the cracks–to have a plan for giving it my all. I don't want to let life pass me by. I want to live it to the fullest, and I have found the only way to live a fulfilling life is to have a plan. And most importantly, for that plan to come from the Lord. So, as I begin each year, I give it to the Lord and ask for His wisdom and guidance.
Here is a very brief overview of what I plan to focus on this year:
Personal
Peacefulness and Trust. I really feel the Lord calling me to focus on peacefulness and trust this year. Honestly, I am a little scared as to what that might look like, but I am going to make a choice to intentionally trust this year. For me, it means not stressing about the small stuff and trusting God's plan in all areas of my life.  It means remembering that He has my back, that He will provide in each and every area, and that I need to lay it all at His feet.
Daily Quiet Time. After seeing the huge difference my sweet daily time with the Lord made in my life, I commit to keep this.  For me to do this, I have to have some kind of a loose plan around what the year looks like.  Here are a few devotionals I will be picking up to use.
Precepts by Kay Arthur – Finish Zechariah and Malachi.
My Utmost for His Highest – I have heard great things about this daily study and am very excited to start it on Sunday.
Write out the book of Psalms – I have always loved Psalms, and with my goal to achieve more peace and trust, I love the idea of physically writing out Psalms as reminders of what God has done, praising Him and reading His countless promises.
Read more. One of my favorite things to do is to read, but I often let the TV take the place of a good book. Next week I will be posting my 2012 Suggested Reading list with books I plan on reading and some of  my favorites from 2011. Here is my 2011 Suggested Reading List to get you started.
Personal Fitness. Last year I never had a fitness goal, and boy did it show! Toward the end of 2011, I committed to getting back on track, and I have renewed  my love for running. This year I want to strive to run a minimum of nine miles per week (three three mile runs). Plus, my husband and I have decided to do four 5K races throughout the year together.
Family
Date nights. We are going to continue to make our marriage and date nights a top priority.  I firmly believe a strong family foundation is in the strength of the marriage. The modeling of love and commitment gives children a sense of security they can get nowhere else. With family so close, we are able to hit two birds with one stone, by many times having a date night and getting the kids great one-on-one time with their grandparents.  Our goal is to do a minimum of one date night per month, but if we can get more in, I am all up for that!
In addition to dates with my husband, I am also going to continue our Kid Date nights too. Ainsley and I had so much fun doing "Girl Talk" nights, and with her growing up so quickly I am afraid she won't be wanting to do as many tea parties with me.  So, I want to get them in as much as I can.  I also found this year, that with my son, a date night wasn't always necessary. Sometimes he was most content getting my undivided attention playing cars on the floor! The biggest thing I learned this year was that what they needed most from me was uninterrupted time, focused on them only. When that happened, it was like their little love tanks just overflowed.
Family Bucket List. One of the goals my husband and I have for this year is to create a list of fun activities we have always wanted to do with the kids.  We always talk about it, but never quite get around to it.  This year we are going to put a plan in place to do just this.  We are excited about family camping trips, movie nights, and even hiking at our local parks. The plan is to try at least one per month.
Monthly Service Projects. We are really good at telling our children how to live generously, but the action part of that sometimes gets pushed to the side.  So, my husband and I decided it is time for us to commit to more and let our children see service in action. I am excited about all the different opportunities we will be able to dive into like serving the homeless and ministering to the elderly at our local nursing homes. Would love to hear any ideas you might have too!
Business
Reader community. I have to admit, that this past year my focus was so on cutting back my computer time that I failed to respond to each of your questions and comments. Family always comes first, but this year in my business time, I am going to commit resources to handle other areas of Faithful Provisions so I can interact and talk to you more! You are my greatest source of encouragement, and I love this community you have all built here. So, I am very excited about my plans to commit more time talking to you via comments, Facebook, Twitter, Pinterest, and by email. Don't give up on me, I am really starting to get it together!
Be more transparent. I have heard you loud and clear! You really like to hear about the things I do well, but most importantly, you like to know that I am just like you. And let me tell you…I am.  As I tell you over and over, you only see what I show you, but this year, I hope to be much more transparent with all the failures and accomplishments. I am looking forward to giving you a peek into our daily routines and the areas where I struggle.  You might be very surprised at what you read!
Recipes. I have to tell you one of my favorite times to post are when I get to share my recipes with you.  And from the comments and pages you click on, it looks like you really enjoy them too! If you haven't already, be sure to follow our new Weekly Meal Plans. These are based on my favorite recipes combined with what is on sale in the ads each week.
Website Navigation. I have learned over the past few months that finding content on the site can sometimes be quite difficult.  We are working on some tabs and pages that I hope will make it easier for you to find what you are looking for.  As always, if you are looking for something, feel free to email or leave a comment and I'll help you find what you are looking for.
New things coming.  There are some new announcements and fun things we have planned for you this year, like my new Food Column in Homelife Magazine.  But as usual, I would love to hear your feedback.  Keep an eye out for our Year-End Reader Survey coming out this week. (You will even have the chance to win a $100 gift card if you fill it out!) I want to encourage each of you to give me your input. It will help me in determining what you need and want here.  Most importantly, it will help me plan my time and resources where you most need and want it.
What about you? What are your specific goals for the year ahead? And what do you want to see more of on Faithful Provisions? I'm all ears!