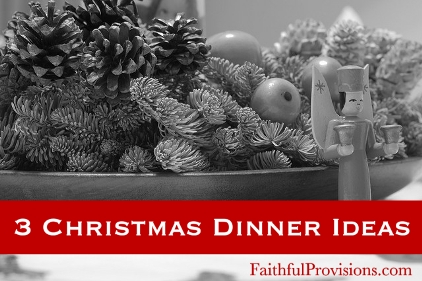 If you're looking for Christmas dinner ideas, I have three Christmas menu plans for you here. These Christmas dinner menu ideas will bring ease to your planning and elegance to your table. I've listed appetizers that can go with any of the Christmas meal plans, then three separate meal plans for your main dish and sides, and finally, a dessert list.
:: You'll find all the recipes listed below in my Recipe Box. (QUICK TIP: To quickly find the recipe, press the CTRL key on your keyboard. While you're holding it down, press the "F" key. A box should appear on your screen. Type the title of the recipe into that search box.)
Easy Christmas Dinner Ideas: Appetizers
I know that right now everyone is looking for easy Christmas dinner ideas. Appetizers are a must for your holiday meal, so don't skip them for the sake of convenience. Not only do they stave off hunger for early-arriving guests, but serving appetizers immediately makes your dinner an occasion–more than just a meal. The ones I have listed below are very simple to make, but they all have that Wow! factor you're looking for.
Pecan Blue Cheese Dip with Veggies – This is a wonderfully creamy dip. Don't stop with veggies–grapes and apples go great with it too!
Goat Cheese Pizza with Caramelized Onions – You might not think of this as an appetizer, but it works well as one. Cut into thin slices, it serves many. Plus, it's something different for people to try.
Marinated Cheese — My favorite! This dip is tangy, rich, creamy–so indulgent, which it makes it perfect for spoiling your family and friends.
 3 Christmas Dinner Menu Ideas
Listed below you will find three Christmas dinner menu ideas. Choose from a main course of turkey, chicken, or pork. The sides were selected specifically to accompany each meat dish.
CHRISTMAS MENU IDEA #1
Main Course:
Turkey
Sides:
Cabbage Salad with Apples and Ginger Vinaigrette
Hashbrown Casserole
Collard Greens
Dressing
CHRISTMAS MENU IDEA #2
Main Course:
Roasted Sticky Chicken
Sides:
Garlicky Kale
Stuffed Acorn Squash with Wild Rice and Goat Cheese
Butternut Squash Soup
CHRISTMAS MENU IDEA #3
Main Course:
Marinated Pork Tenderloin
Sides:
Quinoa Salad with Dried Fruit and Nuts
Mashed Potatoes
Skillet Green Beans
Wheat Rolls
Easy Dessert Recipes for Christmas Dinner
Once you have selected your dinner menu, choose from any of these easy dessert recipes for Christmas dinner.
Sweet Potato Pie – I'll admit it: I'm partial to the Sweet Potato Pie–it just says, "Christmas!"
Creamy Chocolate Fudge – This recipe for fudge is so easy. You'll love it.
Apple Pie Pocket – This is just a variation of my Apple Pie Recipe. I think it makes a unique presentation. Looks very festive!
Turtle Cookies – The kids love making these each year. If you like that sweet-salty taste, try these.
Buttery Sugar Cookies – The ingredient list for these is short and the instructions are simple. The classic Christmas cookie.
::Head over to my Recipe Box HERE.
Which one of these menus will you try this year? What are you serving for Christmas dinner?