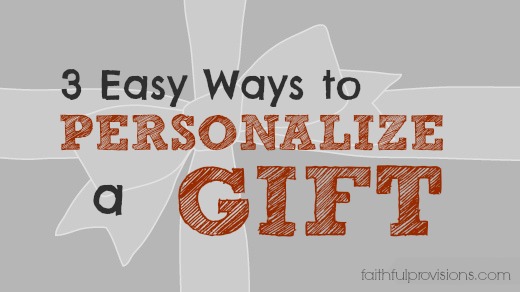 What are the most favorite gifts you have received? I know mine are usually the ones that are personalized to fit me, whether they are handmade, or customized in some way so I know that it was intended just for me! Believe it or not, it is easier than you think to add a special touch to any gift and make it just a little more personal.
3 Ways to Personalize a Gift
1. Add a custom name tag. Whether you make homemade bath salts or package up a mug of tea and honey, on the outside of the gift itself, make it personal to the intended recipient. For instance, I like to attach a round cut out name tag using one of my round paper punches, then either stamp a message or write it on and attach it with a pretty ribbon or raffia. Giving a gift with a mason jar? Try out the cute chalkboard labels and put their name on the outside filled with chocolate dipped pretzels.
2. Get personal. The best way to give a personal gift is to give a gift with their name on it. Do you remember walking through the store as a kid and looking for anything with your name on it? Yep, me too! I usually went and found my mom and got so excited just to see my name in print. Right now Bright Start Kids has their personalized kids clothing 15% off, (use code GIFT at checkout) so if you need a gift, its a good time to grab one. My favorite designs are the Christmas Reindeer bibs, precious! If you didn't already know, I might be needing one of those in the near future…
3. Make a Homemade Gift. My all-time favorite gifts are those that are made. Whether it is a knitted scarf, a loaf of cinnamon-sugar banana bread or a mason jar full of homemade vanilla chai tea mix, something about those gifts makes them just a little more special. They are also the ones I tend to remember for years to come.
************************************************************************************************************
Head over to Bright Star Kids and get your personalized gifts for 15% off right now (use code GIFT at checkout)!
Be different this Christmas & get the kids a super cute gift personalized especially for them! Save 15% when you use the code "GIFT" in the shopping cart. Min spend $30. Expires December 15, 2013.
This is a sponsored conversation written by me on behalf of Bright Star Kids. The opinions and text are all mine.