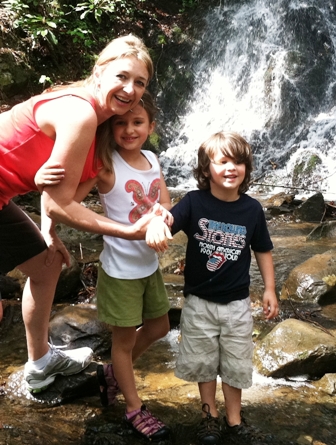 Did you ever think of learning how to coupon as a job you can do—working from home and "making" money?
Several years ago, when I quit my job to stay at home with my newborn, the easiest and quickest place to cut costs was with our grocery budget. That's when I started learning how to coupon and how to save money at the grocery store.
Think of it this way: If you are regularly spending $200 a week at the grocery store, and you are able to slash that cost by 50%, then you have just added $400 a month to your household income.
Wouldn't it be great if you had a part-time job where you worked two hours a week—time while your children nap, after they go down at night, or before they wake up in the morning—from the comfort of your own home? What if you could learn how to coupon (on your own schedule) and "make" around $50/hour? Would you do it? Of course you would!
Here are some quick and easy tips for learning how to coupon:
1. Get Organized. Coupons are available everywhere. You can find online coupons, store coupons, coupons for groceries, personal care, restaurants, everything! But coupons won't work if you don't keep them organized. You'll just wind up frustrated. There are two ways that I recommend for organizing your coupons. See How to Organize Your Coupons Part One HERE. Find How to Organize Your Coupons Part Two HERE.
2. Use Coupons Strategically. Only use coupons in conjunction with sales or clearance items for the best price. I never use a coupon unless I can pair it with an item that is on sale. For example, using coupons with items that are on a BOGO deal (Buy One, Get One free) will provide great savings. Learn How Buy One, Get One Free Scenarios work with coupons HERE.
3. Ditch Brand Loyalty. In order to save the most, you need to be willing to try new brands when those coupons are available. There are a few things my family is brand loyal to. When those items go on sale and I have coupons, I will stock up until the next sale. Learn how to stockpile HERE.
Why start a MOPS group? Learning how to coupon is a lot more fun when you can get together with other moms in your season of life by starting a MOPS group. MOPS can provide the perfect opportunity to trade coupons and money-saving strategies. But even more, MOPS groups can be a great source of encouragement. That's what I love most about MOPS: Better Moms Make a Better World! 
::  REQUEST A FREE MOPS Information Packet HERE (no obligation)
Want to learn more about MOPS and connect with moms like you? Check out  MOPS on Facebook and MOPS on Twitter. Already part of MOPS? Leave a comment below telling other Faithful Provisions readers what you love about the fellowship of the MOPS community where you live.
Faithful Provisions Disclosure: This post is sponsored by MOPS International.  All opinions stated are mine own. For more information see my disclosure policy.