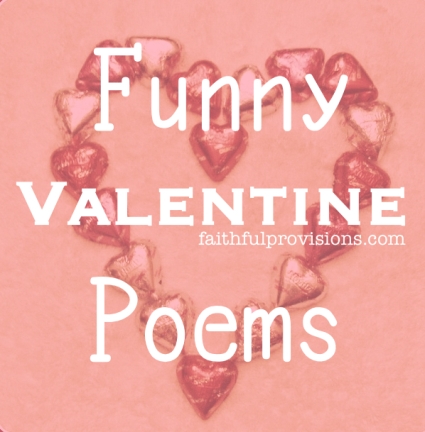 Lighten up your Valentine's Day with these funny valentine poems. With just the right amount of goofiness, these are sure to melt the heart of the one you adore!
Take All My Love
Take all my love,
Take all my kisses,
But there better be a ring,
If you want me to be your Mrs!
Roses are Red
Roses are red
Violets are blue
I never know what
to say around you.
My Head's in the Clouds
My head's in the clouds,
My heart's in my throat
I'm walking on air
Handing you this note.
Be my Valentine!
Barbie without a Ken
Like a country song
That's been played too long
Valentine's Day is back again.
Sure hope I can find
Some peace of mind
Being Barbie without a Ken.
That Way
You're amazing
Did you know?
I've crushed on you
Since long ago.
So here's my heart
And here's my soul.
I think it's time that
You should know.
Will you be…
Can you be…
Could you think of me…
That way?
Be sure to see our collection of  funny Valentine's quotes HERE on Faithful Provisions. Plus, you'll find everything you need for funny Valentines HERE–cards, quotes and poems!
These original poems were created for Faithful Provisions, ©2013 Faithful Provisions. For personal use only. May not be reproduced, reprinted or distributed for capital gain without prior permission from Faithful Provisions.