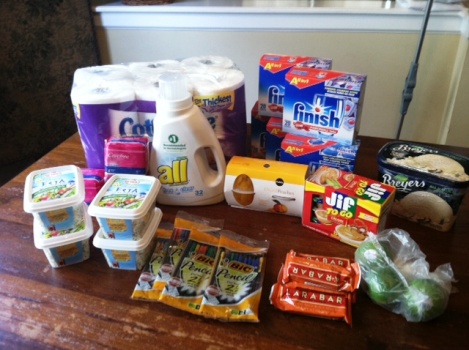 Looking for tips to help you maximize your grocery budget? Learning how to stockpile is key. Stockpiling is simply learning how to take advantage of store sales in order to only purchase the items you need when they are at their lowest price. But you can understand the basic idea of stockpiling and still have questions like these:
How much should I spend?
What should I buy?
How do I know when something is a good deal?
The first thing you want to do is take a look at your personal grocery budget. You need to know how much you normally spend at the store each month. Then, you can create a goal for what you actually want to be spending. (You can learn how to create a budget when you use my easy Budgeting Spreadsheet tool HERE. It is user-friendly, and I think it actually makes budgeting fun!)
Take a look at these five tips that will help you maximize your grocery budget.
1. Buy Your "Needs" First. Have you ever returned from the grocery with lots of good deals, but still nothing to eat for dinner? LOL! Your weekly budget should first go to "needs." These are those items that aren't necessarily a good deal, but you have to get. I include things like meat, milk, and fresh produce here.
2. Stockpile Good Deals. Once you get your needs, the rest of your weekly budget can go to stockpiling.  When you have been stockpiling for a while, you will have enough food in your pantry and freezer to make your meal plan. You will just fill in with fresh produce and dairy items. Most of your budget will go toward buying what is on sale.
But if you are just beginning, you may only have $10 or $20 to stock ahead with. That's okay! You will know what the best deals are by using my FREE Provisions Price List. (If you have a smartphone, you can download the FREE Provisions iPhone App.) This lets you know what the best prices are on most every grocery item.
3. Use a Grocery Budget List – Most of the time spent on your grocery store trip should be done at home. Make your list and add up what you are spending. (You can find the store deals HERE, along with deals and coupon matchups, so you'll know how much everything will cost.) Use this great Weekly Grocery Budget List to get you started!
4. Prioritize Good Deals. Here's a question a lot of people ask me: How do you determine what you will get when there are so many good deals?
Start with the best deals on meat. I usually start here, since meats are the most expensive part of my budgeting and meal planning.
Money left? I get other good deals that I want/like but aren't priorities.
Be sure to get what you can for FREE or almost free. Even if you don't need it, you can give it away.
5. Know When To Stop. You stop stockpiling when you run out of money! Stop making purchases when you have used that week's budget.
You might also like: