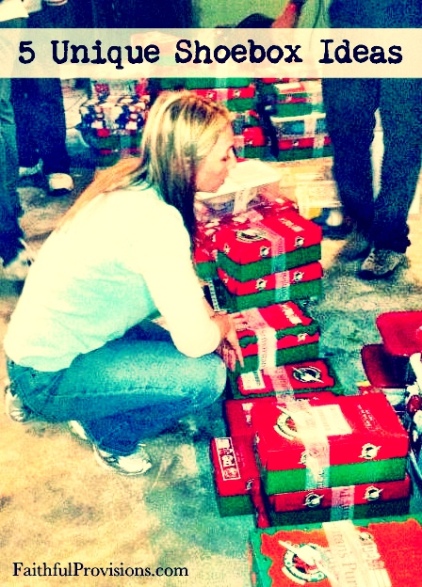 Every year, I find myself worrying about coming up with unique Christmas shoebox ideas when I start filling my boxes. I want to be sure that the box I pack has exactly what it needs in it for the child who will receive it.
And this same God who takes care of me will supply all your needs from his glorious riches, which have been given to us in Christ Jesus. (Philippians 4:19 NLT)
My greatest desire is to fill a box packed with things that the child really needs and wants. And there is no reason for me to worry about it or stress over it at all, because our God is a big God! He not only makes sure that each box gets to the child He intends to receive it, but He also will guide you as you are packing the box. He will make sure you know what He wants you to put in it.
Every good and perfect gift is from above, coming down from the Father of the heavenly lights… (James 1:17 NIV)
I want to encourage you to pray as you fill your box, and trust His Holy Spirit to speak to you. Maybe He will place a burden on your heart for a unique gift that He wants you to include in your shoebox. I think that's okay, and I think you should trust Him. No matter how unorthodox it may be, trust that the Lord wants that item in the box, and trust that He will get it to the right person. The five stories below prove that He knows what these children need, and He knows how to deliver each box to the one He intends it to receive it.
Hot Wheels. A Brazilian boy arrived at the distribution asking for a box with a Hot Wheels car in it. The volunteers explained that they didn't know what would be in his box. They gave him a box to open, and when he did, more than half of the box was filled with Hot Wheels!
A pretty dress. As dad in India had never been able to give his daughter a Christmas gift. Then one Christmas, he was able to get a box for her at an OCC distribution. When she opened her shoebox, a pretty dress was inside–just her size.
Shoes. In Uruguay, four brothers came to an Operation Christmas Child distribution with only one thing in mind. They each hoped to get a pair of shoes to wear to school. All four opened boxes that had a brand new pair of shoes inside.
…for your Father knows exactly what you need even before you ask him! (Matthew 6:8b NLT)
Hair clips. Life in a Romanian orphanage meant living in poverty. All 12-year-old Livia had ever asked for was some hair clips. When she received a Christmas shoebox, hair clips were on the very top of the box.
Looking for items to fill your Christmas shoebox? Find a FREE printable list of 101 suggested shoebox gifts HERE, approved by Operation Christmas Child.
Shoes and Socks. A boy in Manila lay with his right leg amputated in a hospital cancer ward. He received a box with shoes in it. The boy in the bed next to him, whose left leg had been amputated, received a pair of socks in his box. These two boys were able to share a sock and a shoe with each other so that each had a complete set for their remaining leg that fit.
What's most important is that children and adults understand how incredible it is that people from thousand of miles away love and care for them because of Jesus Christ. And then they begin to understand that there is a God who loves them, who cares for their needs, and who longs to fulfill the greatest desires of their hearts by offering them a relationship with Him. That's what the ministry of Operation Christmas Child is all about.
:: Learn how to pack your box so that all the Christmas gifts fit HERE.
Have you ever felt led to put a unique item in a shoebox? What was it?