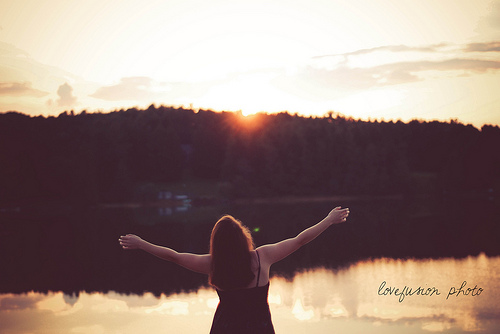 This week in my daily study I was made aware of some very practical ways to praise the Lord. Many of which I already do, but just to read Scripture that backs it up was very inspiring.
For years now, I have always felt a pull to praise and worship music.  It literally fills my soul. It lifts me up, it make me feel like I am on a high. It never fails that the minute I begin singing His praises, I feel His Spirit in me trying to overflow into my life. Can anyone relate?
This week we had the honor to see one of my daughter's classmates baptized. It was a worship service, so she sat with us during the entire service. (And she was quite well-behaved, I might add!) While we were in the service, I was really getting into the worship music (as usual) and had my hands lifted up. She was right beside me.
The next morning I was on my morning run and I felt the Lord very clearly telling me I needed to be able to articulate to her "why" I worship Him with my hands up. Just as if He knew she would be asking me…very soon. God and I talked on my entire run that morning. I went through all the reasons why I raise my hands in worship. And His Spirit helped me express why. I love it when He does that. The time flew by. The next thing I knew I was at my doorstep.
Let everything that has breath praise the Lord. – Psalm 150:6
No sooner had I walked in the door and begun breakfast, did she come up and perch on our breakfast bar. Asking me questions. Lots of great questions. Questions about baptism. Questions about praising the Lord. Questions about why people raise their hands when they sing in church. WOW! I love it when God does that. I love it when He speaks so clearly to me, then confirms our conversation, his message to me.
Is there any doubt He wants me to talk to my daughter about praise? Why we praise Him? Ways to praise Him? Nope. It was pretty clear. And I love it when things are very clear. It  makes things so much easier!
Okay, so I went through my testimony of why I praise the Lord with my hands in the air. Now, I know this isn't for everyone.  God calls us all to worship Him in our own way.
Then this morning, I was in my quiet time. I have been reading through The Power of a Praying Woman by Stormie Omartian. If you haven't read all The Power of… books, you should! Well, I was on the chapter about preparing to be a true worshiper. Check out the verse in my study…
Hear the voice of my petitions, when I cry to you, when I lift my hands to Your Most Holy Place. — Psalm 28:2
Do you know my heart shuddered? I felt such a sense of blessing at that moment. God was confirming all that He was teaching me. I love how He does that. I wish I was open enough to Him every day, so that every day I would feel blessing like this.
Are you not a hand-raiser? No biggie, there are so many ways to praise the Lord. Do you know you do it just in the way you live your life for Him? You don't have to be a music person to worship Him. People worship Him in their art, in their daily work, in their attitude… I could go on forever.
Here are some great ways to praise the Lord and what He says about them!
Praise Him by lifting your hands.
Life up your hands in the sanctuary, and bless the Lord. – Psalm 134:2

Praise Him with singing.
Praise the Lord! For it is good to sing praises to God: for it is ; pleasant , and praise is beautiful! – Psalm 147:1
Serve the Lord with gladness; come before His presence with singing. – Psalm 100:2
Praise Him with your words.
Therefore by Him let us continually offer sacrifice of praise to God, that is, the fruit of our lips, giving thanks to His name. – Hebrews 13:15
Praise Him with dancing and instruments.
Let them praise His name with the dance; let them sing praises to Him with the timbrel and harp. – Psalm 149:3
Praise Him in fellowship with other believers.
I will declare Your name to My brethren; in the midst of the assembly I will sing praise to You. – Hebrews 2:12
What is your favorite way to praise the Lord?