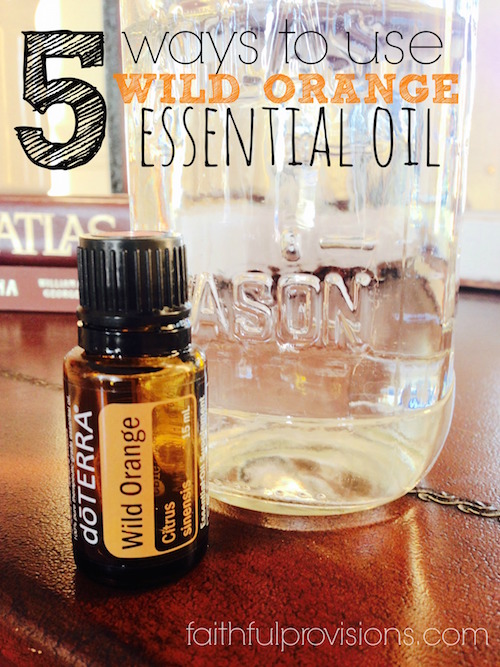 Wild Orange is one of my favorite – and most used – essentials oils for many reasons beginning with its energizing aroma and wrapping up with its many health benefits.
Wild Orange is:
A powerful cleanser and purifying agent
Supportive against environmental and seasonal threats
Immune-enhancing
Energizing and revitalizing to the mind and body
My husband brings his water with a drop of wild orange oil into our bedroom at night and the whole room smells amazing. Of all my oils, I probably use this one the most frequently.  Here are some of the ways I use wild orange each week:
I use a drop of Wild Orange essential oil in my water each day. (Be sure to use a glass or stainless steel bottle, not plastic.)
Put 2-3 drops of Wild Orange and Peppermint into a diffuser to lift your mood and energize and aid in focus. This is a great blend to diffuse during homeschool or homework hours.
For tummy issues and nausea. Mix a few drops of wild orange with Digestzen for constipation and rub on belly. Also, many swear by it for morning sickness.
3 Recipes for Wild Orange Essential Oil
energize the mind and body:
Dispense equal parts Wild Orange, Peppermint, & Frankincense into hand. Rub palms together and inhale deeply from palms, then rub on the back of neck.
anxiety support: 2 drops each of Wild Orange, Cilantro, & Frankincense, with 3 drops each of Geranium & Clary Sage. Blend together in a roller bottle. Apply to back of the neck or inhale directly from bottle.
chronic fatigue support: 4 drops Wild Orange, 5 drops Lavender, 4 drops Frankincense, & 3 drops Lemongrass into an empty veggie capsule. Take 1 capsule 3 times daily, along with the Lifelong Vitality Pack.
——————————————————————————
Want to order essential oils? Head over to my Essential Oils Site, and if you have questions leave me a comment or shoot me an email to kelly (at) faithfulprovisions (dot) com, and I'd be happy to help!
Disclaimer: I am not a medical professional, nor do I pretend to be one.  All the statements above are out of my own personal use. Be sure to consult your physician if you have any questions about drug interactions, etc.
Disclaimer #2: I am a DoTerra wellness advocate, and I get compensated for any purchases made from the links above. Please let me know if you have any questions.