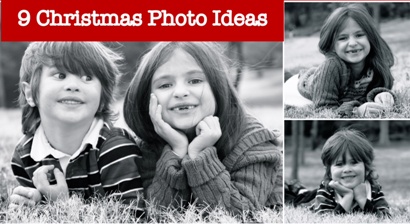 If you're looking for Christmas card photo ideas, my best advice is simple: Grab great, fun family pictures. I've got ideas here for settings and poses, but I encourage you to be creative! And any time someone sends you a card that you love, save it. Take a pose you love and make it your own.
Family Christmas Photo Ideas for Settings
Need a few family Christmas photo ideas for settings? I think the most personal photos are taken somewhere you and your kids love to be.
1. Outdoor pictures are the best – To me, they look so much more inviting. Try your backyard. The creek. Under their favorite tree.
2. In front of the Christmas tree –  If you get your tree up the day after Thanksgiving, you've got the weekend to decorate, take your picture, and still get your cards done by December 1st. I love seeing kids dressed in pajamas decorating the tree!
3. Front door picture – Family standing in front of the front door of their home, with Christmas wreath on the door.
4. Stairsteps – I love the stairstep pictures, where the family is lined up on a pretty, decorated staircase. Dad goes on the bottom step, then Mom, then tallest to smallest kids.
5. In front of mantle with stockings – Empty stockings don't make a good background, so you might want to fill the stockings with newspaper and then place a stuffed animal or candy inside so that there is something peeking out of the top.
Unique Christmas Card Photo Ideas
6. One of my favorite unique Christmas card photo ideas is to put together a collage.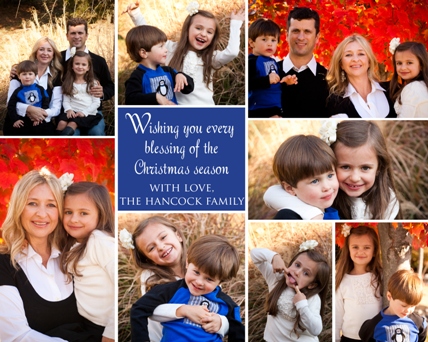 We did the card above a few years ago. As you can see, we took shots of the kids separately, together, and also a few  family photos, then arranged them all on one card.
My favorite app right now is Phonto. It allows me to take pictures and then put something creative together right on my phone. (Check out the Phonto app HERE.) Let's face it: Christmas cards are fun, but they can get expensive. You don't have to send cards to everyone you have ever known! Send hard copies to the people that you feel are really close to your family. You can always put your Christmas picture on your Facebook page for "everyone" to see.
You can see all the iPhone apps I use for creating fun pictures for Christmas cards that are unique and personalized HERE. (They are so easy to use, and the ones I like best are either FREE or only $.99!)
Creative Christmas Card Photo Ideas
Creative Christmas card photo ideas, of course, can be just that. Use your imagination:
7. In front of your city's skyline
8. At your favorite coffee shop
9. A photo of everyone's feet, standing in a circle–bare feet, silly sock feet, or with favorite sneakers on!
Do you create a family Christmas picture every year? What are your favorite Christmas card photo ideas?
:: See more Christmas card ideas on Faithful Provisions!