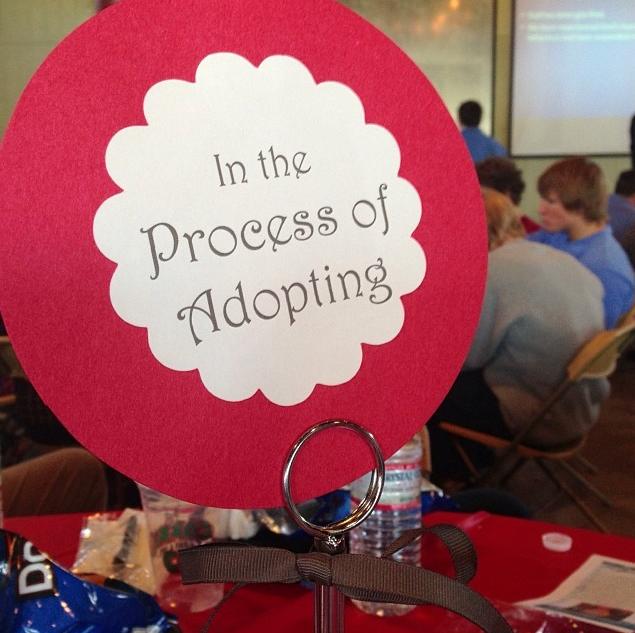 Do you see that sign above?
Do you see the words on it?
That was the table where we sat two weeks ago on Orphan Sunday. That was our table!
The past few years I have felt something tugging at my heart, telling me something wasn't finished. That our family wasn't complete. Last December my husband and I talked about me having another child, but we felt that wasn't the answer.
For I know the plans I have for you… ~Jeremiah 29:11
Since before I met my husband, I have had a longing in my heart to do something different than I was doing, to be brave. To perform an act that showed my complete and total dependence on God. To fully lean on him, knowing that in it, there was no answer but Him. Once I had a family, well, the thought of being so brave was a little scary. (That is the whole definition of bravery, right?) It was all fine and dandy when it was just me, but when you put others in the mix, it changes everything. It's a whole new level of trust.
Fast forward to last month.
We made the BIG decision and decided to adopt!
Until now, I have never known such anticipation and fear wrapped up all in the same heart. We know without a doubt that this is part of God's journey for our family, and I couldn't be happier….or more fearful at times.
There is so much I want to share with you, but writing has been a bit of a challenge lately with all the paperwork, homeschooling and well…LIFE. I am going to commit to update you what we're experiencing in this wonderful journey, as we go. I plan to let you see what our adoption journey looks like and hope that if you are considering it yourself, this will be an encouragement to you.
Do you have any idea how much I covet your prayers? While exciting, this journey scares me more than you know, for so many reasons. I want to be brave and fearless and trust God in every decision, with every fiber of who I am. The Enemy creeps in at the worst of times – usually right before a big decision – and everything I knew, flies right out the window. I become gripped with fear and doubt.
This is my command–be strong and courageous! Do not be afraid or discouraged. For the LORD your God is with you wherever you go. ~ Joshua 1:9 NLT
Please pray that we will wait on The Lord, lean on Him fully and bring all things to Him. To not walk ahead of him and let Him lead.
I haven't said it enough, but THANK YOU from the bottom of my heart for all your support and prayers over the years! I see every message – even if I can't respond to them all – and they always seem to come just at the right time.
I look so forward to sharing this new journey with you!