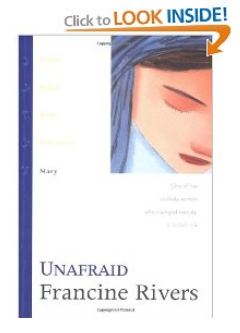 A book that prepared my heart for Advent this year is Unafraid: Mary by Francine Rivers. It's number 5 in the Lineage of Grace series. You will love this book!
Francine Rivers is one of my favorite Christian authors. This series, called Lineage of Grace, is composed of five novels that tell the stories of the women who are mentioned in the lineage of Christ: Tamar, Rahab, Bathsheba, Ruth, and Mary. The author is a master at historical fiction. If you are wanting to get your heart to understand what it really could have been like to be Mary, the mother of Jesus–to somehow be able to understand what she and Joseph were going through, and what Jesus's early life was like, you want to read this book. It's so perfect to be reading right now, during the Christmas season.
Unafraid: Mary looks at everything that happened when Mary became pregnant. It gives a great, realistic, behind-the-scenes look at a young woman who was greatly blessed by God but who had to live with other people's misunderstanding of what had happened to her.
Here are the individual titles in the series:
You can now order all five books in one: A Lineage of Grace: Five Stories of Unlikely Women Who Changed Eternity. All the books as well as the compilation are available as Kindle downloads as well.
You don't have to read the whole series for the book about Mary to make sense, but I would highly recommend you go back and read the whole series at some point. I love historical Christian fiction because it brings the Bible to life for me. I think you will like these books too. (Be sure to check your library to see if they have it!)
You can learn more about the season of Advent HERE on Faithful Provisions!