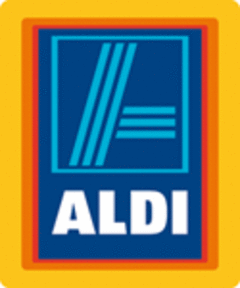 Check out my Provisions iPhone App or the printable version "Get It Now" list for my favorite everyday deals at Aldi.
Things to know…
Prices vary by region.
You must have a quarter to get a shopping cart; you get it back when you return the cart.
Payment options are only debit cards or cash.
You bag your own groceries and bring your own bags, they have bags for 5¢ at the register.
Go here for a list of my favorite everyday Aldi low prices.
The start dates for sales are based on the map below.  Prices will change on Wednesday, Thursday or Sunday depending on your location on the map.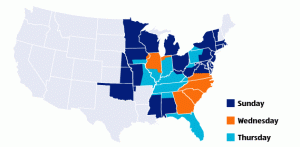 ==========================
Find more great deals in your Aldi store ad.
PRODUCE:
Pineapple – $0.99
Carrots, 2 lb bag – $0.39
Celery – $0.49
Potatoes, 10 lb bag – $1.99
Broccoli, 16 oz bag – $0.89
Sweet Potatoes, 3 lb bag – $0.89
OTHER DEALS:
Aspen Valley Fresh Semi-Boneless Lamb Leg – $5.99/lb (Meat Special Buy* Limited quantity)
Appleton Farms Spiral Sliced Half Ham, includes glaze packet, 8 lb avg wt – $1.69/lb
Appleton Farms Smoked Ham-Shank Portion, 8 lb avg wt – $1.19/lb
Goldhen 1 Dozen Eggs – $0.69
Happy Farms Pepper Jack Cheese Block, 8 oz – $1.99 (was $1.79)
EdenVale Goat Cheese Logs, Plain, Honey or Garlic & Herb, 4 oz – $1.99
Millville All Natural Granola, 16 oz – $3.99
Nature's Nectar, assorted juices, 64 oz – $1.49 (was $1.69-$1.79)
Millville Fiber Now Bars, 7 oz – $1.49 (was $1.59-$1.99)
Lullabies Diapers – $4.99 (was $5.49)
More Aldi deals at Beltway Bargain Mom.
Looking for a coupon? Find it on my Coupon Database.