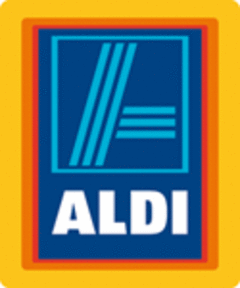 Here are my favorite deals in the new Aldi Weekly Ad. Check out the
Aldi Deals page
for the complete list of this week's matchups.
Aldi Shopping Resources:
The start dates for sales are based on the map below. Prices will change on Wednesday, Thursday or Sunday depending on your location on the map. Check out the Aldi Deals page for the ads beginning on Wednesday.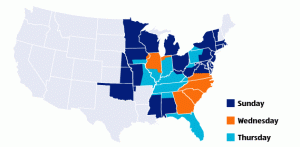 **For a printable version of this list, click here.
Produce
Green Peppers, 14 oz – $0.79
Mushrooms, Baby Bella, 8 oz – $0.99
Onions, Red, 2 lb – $0.99
Tomatoes, Roma, 20 oz – $0.79
Canned Goods & Soups
Reggano Pasta Sauce, 24 oz – $1.19
Traditional, Meat or Mushroom
Condiments, Spice & Baking
Chef's Cupboard Bread Crumbs, 15 oz – $0.99
Plain or Italian
Tuscan Garden Croutons, 5 oz – $0.89
Caeser, Cheese Garlic or Italian Seasoned
Grains, Pasta & Sides
Priano Gnocchi, 17.6 oz – $1.49
Whole Wheat or Potato
Reggano Penne Rigate, 16 oz – $0.89
Frozen Foods
Mama Cozzi's Pizza Kitchen Chicken Parmesan Pizza, 27.5 oz – $3.99