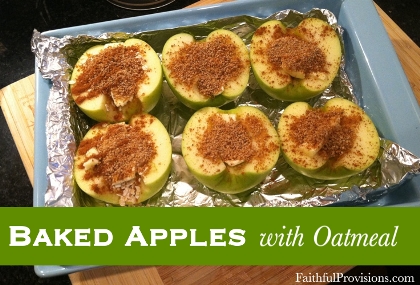 This recipe for Baked Apples with Oatmeal is a wonderful treat and perfect for back to school breakfasts. I can remember my grandmother baking apples, and oh, this will smell so wonderful! It's a great dish for the kids to wake up to, or for a special treat after school
*Scroll down to use print recipe feature and add to your Recipe Box.
My Baked Apples with Oatmeal recipe is pretty simple, but in order for everything to come out right, you want to be sure that you start with a baking apple. Not every apple is going to bake well. In order to qualify as a good baking apple, you want the apple to have a good balance between tartness and sweetness. If it is too sweet, the sugars will break down as it bakes and your apple will get mushy. You want one that will hold its shape throughout the baking process. The best baking apples are:
McIntosh
Granny Smith
Fuji
Rome Beauty
This is almost like a stuffed apple recipe in that you are going to core your apple and add some filling. There are two ways to core out the center. You can core from the top, and just be sure that you get all of the seeds and core. Your second option is to cut the apples in half vertically, as I did in the picture above, and core out the center. This way gives you a little more surface area. Whatever way you go, just get the core and the seeds out. You want to leave as much of the good apple fruit as possible.
Stuff the hollowed-out place with the mixture of brown sugar, cinnamon, and oatmeal below. Top the filling mixture with a generous pat of real butter. As the butter melts down, it will cook the oatmeal.
Serve with vanilla ice cream for an extra special dessert.
Baked Apples with Oatmeal
Ingredients
3 apples, cored (depending on how you core them, this will make 3 large servings or 6 regular-sized servings)
¾ cup oatmeal
1 teaspopon cinnamon
2 tablespoons brown sugar
Butter
Instructions
Mix oatmeal, cinnamon, and brown sugar together thoroughly.
Place ⅛ of a cup of the mixture atop each apple half. (You'll use about ¼ of a cup of the mixture if you do 3 large servings.)
Depending upon the size of your apple, cover each one generously with butter.
Bake at 375 degrees for 25-30 minutes or until done.
:: Find more Apple Recipes HERE.
Recipe developed by Kelly Hancock ©2013 Faithful Provisions. For personal use only. May not be reproduced, reprinted or distributed for capital gain without prior permission from Kelly Hancock.