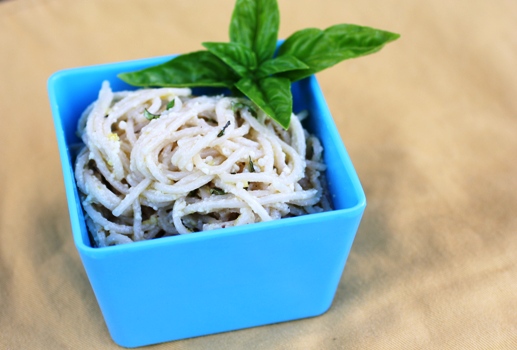 Basil and Lemon Spaghetti is one of my all-time favorite "Go-To Meals", this version is adapted from Giada de Laurentiis' Lemon Spaghetti.  I always have some form of pasta on hand, grated Parmesan in the freezer (from my bulk Costco purchase), fresh or dried basil, and either fresh lemons or frozen lemon juice.
The beauty of Basil and Lemon Spaghetti is that you can serve it as a main dish with a side salad.  Or you can serve it as a side dish to accompany anything from steak to grilled fish. If I serve it as a main dish, I often grill chicken or fish to serve over the top to add some lean protein.
*Scroll down to use print recipe feature and add to your Recipe Box.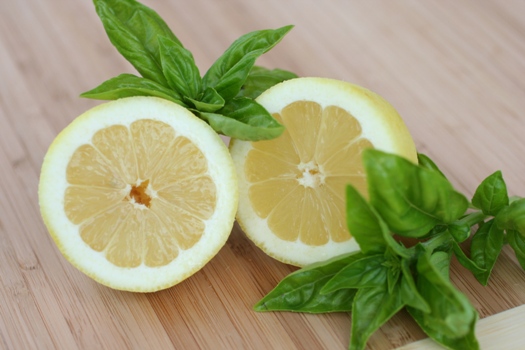 To cut down on costs, I use whatever pasta I happen to have in my pantry. I prefer fresh lemons, because I can utilize the entire lemon and zest it, but if you are making this last minute and don't want to make a special trip to the grocery store, an extra tablespoon of lemon juice will work nicely. The zest adds a pretty color, but not to worry if you have to leave it out.
Even the basil can be swapped for dried in a pinch, but I keep fresh basil in my garden, so this dish is a perfect summertime treat. Growing my own herbs greatly cuts down on the costs of most of the dishes I make, because we try to incorporate fresh herbs whenever we can.  If you can at all swing the fresh basil, I think that is the ingredient that gives this dish the extra flavor to take it over the top.

Lemon Spaghetti
Ingredients
1 pound spaghetti, cooked
½ cup grated Parmesan cheese
grated lemon zest of 1 lemon
⅓ cup lemon juice (or about 2 lemons)
⅓ cup olive oil
¼ cup fresh basil, chopped or chiffonade
salt and pepper to taste
Instructions
Bring a large pot of water to a boil to cook the spaghetti, be sure to salt the water to add flavor.
While the spaghetti is cooking, in a large serving bowl, whisk together oil, lemon zest and juice, Parmesan cheese, salt and pepper until blended.
Once pasta is done (al dente is best), strain (do not rinse!), and pour over sauce in serving bowl.
Add the basil and toss all ingredients until well coated.
Serve with extra Parmesan, if needed.