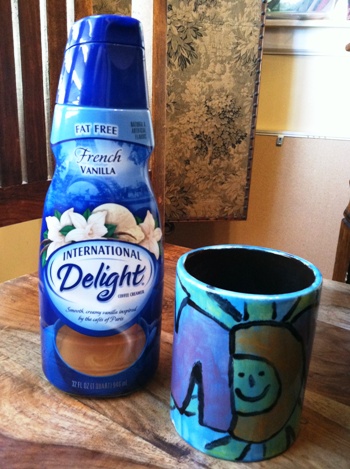 This time of the year, with St. Patrick's Day coming up (See my What is St Patrick's Day post here), you hear a lot about luck–especially the luck of the Irish! Whether it is getting an old car to start one more time, watching your favorite team make a three-pointer right as the buzzer sounds, or being lucky enough to have a delicious cup of coffee on a chilly March morning, everyone loves it when things seem to go their way, right? My readers know how much I love coffee! And when it comes to a good cup of coffee on a chilly morning like today–or even when it warms up this afternoon, I don't need luck. I just need some International Delight French Vanilla Creamer. It's my favorite!
What do you think? Do you believe in luck? Or do you believe there's more to it? (See my thoughts HERE.)
Want a chance to test your "luck"? Head on over to the International Delight Facebook page and enter the International Delight Luck of the Irish Contest, for your chance to win a trip for two to Ireland.
Love everything that International Delight has to offer on Facebook? If you do, make sure you check them out on Pinterest too!
For your chance to win a Keurig coffee maker and a one year's supply of International Delight creamer, complete these two steps:
1.  Share the International Delight's Luck of the Irish Facebook Contest with your friends below
2.  Tell us that you've invited your friends to enter the Luck of the Irish Facebook Contest AND tell about a time when good "luck" was on your side
This is a sponsored conversation written by me on behalf of International Delight. The opinions expressed by me do not necessarily reflect the view of the International Delight Brand. Official Contest Rules. Official International Delight Facebook Contest Rules.