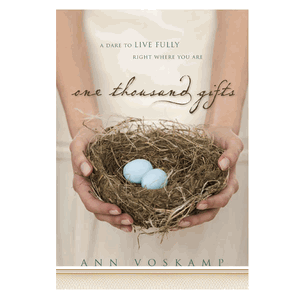 Yesterday, the (in)courage Bloom Book Club gals announced their new book, and it is one of the first books I wanted to read on my 2011 Suggested Reading List! It is Ann Voskamp's new book,  One Thousand Gifts: A Dare to Live Fully Right Where You Are
and it
is a great deal this week in two different places.  So if you want to participate, it is a good idea to get yours now.
Order on Amazon — $9.34 + Free Shipping
You can get One Thousand Gifts on Amazon for just $9.34 with Free Shipping through Amazon Prime.
Order on Dayspring – Get 2 Books at $10/ea with Free Shipping
You can also order One Thousand Gifts on Dayspring for $10.  If you order two books you get FREE shipping, just use code BLOOMBOOK at checkout. (Just put "One Thousand Gifts" into the search box to find it easily.)
Thanks, Jessica!