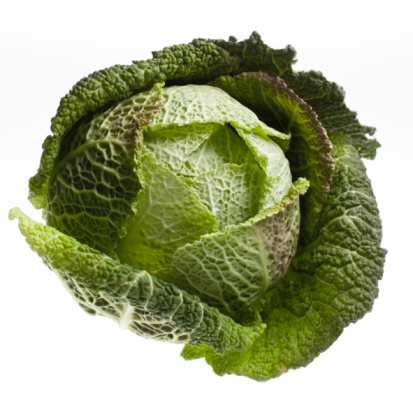 Last week we got cabbage in our CSA box and I was quickly reminded that it is in season and on sale at a store near you. So, what better time to do a recipe link up of our favorite cabbage recipes. I need your help because I only have two recipes.  Please be sure to link up your favorite cabbage recipes below for me to try!
Cabbage is kind of like the Jan Brady of the vegetable world. It's often misunderstood and easily overlooked because of its more popular, well-liked siblings broccoli and cauliflower (all members of the vegetable class cruciferous). But cabbage is rich in compounds critical for fighting cancer and provides an exceptionally high source of vitamin C.
If you're purchasing fresh cabbage, look for crisp leaves and stems. Keep the cabbage in a paper bag in the crisper drawer of your fridge. Red and green cabbages will keep for up to 2 weeks. Most other kinds will keep for around one week.
While cabbage is fairly bland when it comes to taste, it can quickly overwhelm a house with an unpleasant odor if it's overcooked. Choose quick-cooking methods like boiling, steaming, stir-frying, or microwaving.
Here are a few of my favorite recipes:
Cabbage Salad with Apples and Ginger Vinaigrette: I love raw cabbage in this crisp light salad that is full of flavor!
Bierocks (Cabbage and Beef Pockets): These are great spiced up with your favorite sauce and cheese inside.  You can either make your pockets homemade or use biscuit or pizza dough you get on sale. Perfect to put make extra and store in the freezer for an easy dinner later.
photo credit:  getty images
============================
Have a recipe you would like to share either on your blog or elsewhere? If so, post the link below so that all the Faithful Provisions readers can easily find it. Be sure to make it easy to navigate by linking directly to your recipe post. Links going to the homepage of your blog or any other part of your blog besides the direct link to a recipe will be deleted. Posts promoting affiliate and referral links will be deleted.
Tip: Post the recipe name you are linking to in the link title. For example, Beef Wellington. Also, be sure to pick the matching image, it makes it so much easier to visually find the recipe you are looking for!