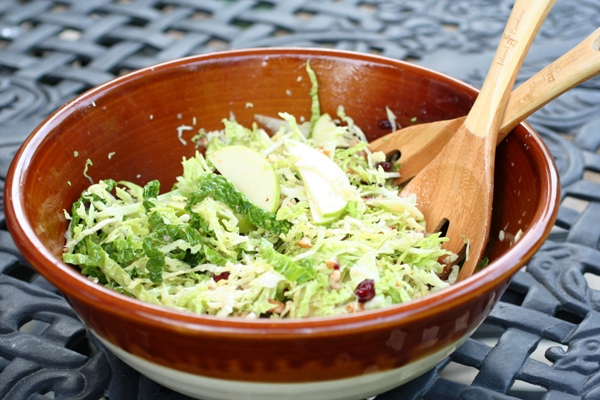 This week in our CSA box we had Napa cabbage.  I am ashamed to say that last year when I got cabbage I let it go bad. I wasn't really that excited about using it, but now with this recipe, I actually crave it!
This Cabbage Salad is crisp and light, with a nice bite. The ginger vinaigrette brightens up the cabbage and gives it a fresh tangy taste. It tastes better the longer it sits, after two days the cabbage had softened a bit and the flavors had marinated in.
*Scroll down to use print recipe feature and add to your Recipe Box.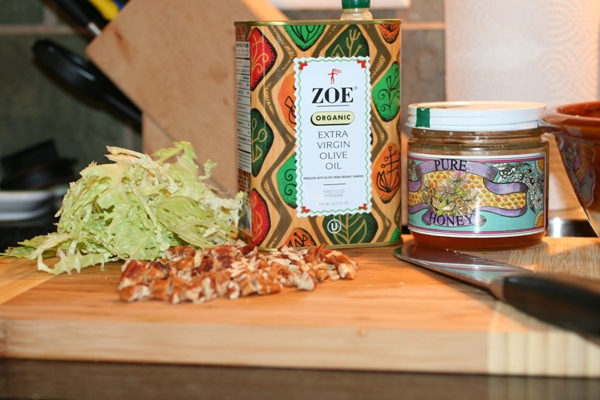 When I make this I actually double the dressing and use it for salads throughout the week. It goes great on just about any type of salad.
One of my tricks when using fresh ginger is to freeze it.  I buy a root of ginger, use a vegetable peeler to remove the skin and then use a micro-plane to use what I need, and then the rest goes into the freezer.
Cabbage Salad with Apples and Ginger Vinaigrette
Ingredients
3 tablespoons apple cider vinegar
2 teaspoons grated peeled fresh ginger
1 teaspoon Dijon mustard
1 teaspoon honey
½ teaspoon minced garlic
3 tablespoons extra-virgin olive oil
¼ teaspoon kosher salt
⅛ teaspoon ground black pepper
4 cups packed shredded Napa cabbage
2 Granny Smith apples, thinly sliced
¼ cup craisins
½ cup toasted pecans
Instructions
Whisk together first 5 ingredients (through garlic) in the main serving bowl. Whisk in olive oil, salt, and pepper.
Toss apple slices with vinaigrette to keep from browning.
Add cabbage, apple, craisins, and pecans. Toss with the dressing. Garnish servings with remaining seeds.
Recipe developed by Kelly Hancock ©2010 Faithful Provisions. For personal use only. May not be reproduced, reprinted or distributed for capital gain without prior permission from Kelly Hancock.