This recipe came out of my need to use more of the cabbage from our CSA box this week. We did Bierocks (Cabbage and Beef Pockets) and Cabbage Salad with Apples and Ginger Vinaigrette, but I was looking for something new.  Now, it is the middle of the summer here and I don't typically make soup in the summer, but today was an uncharacteristically cool June day and it worked.
*Scroll down to use print recipe feature and add to your Recipe Box.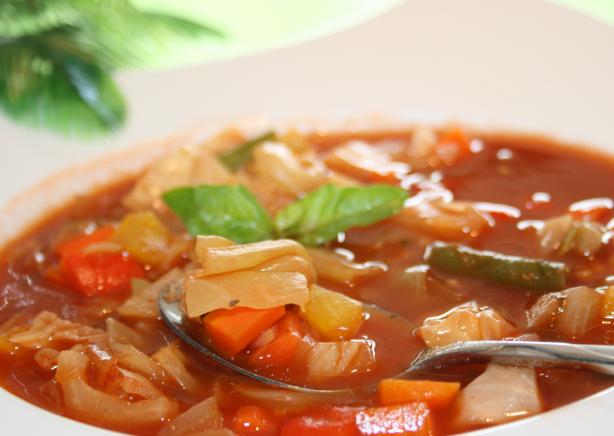 This soup is a twist off the old Cabbage Soup Diet you read about years ago, but my version was a little heartier because I had cannellini beans and potatoes on hand. Although I used my Homemade Chicken Stock as a base, with all the tasteless cabbage, beans and potatoes, this soup needed more than the normal dose of salt and seasonings. Keep in mind that you might need to adjust the seasonings to your taste.
Sorry I never grabbed a picture, the one here is one just to give you an idea of what it will look like. My daughter took a Young Chef's Academy cooking class, which inspired me to get her even more involved.  She ate potato salad that she made, never has she done that.  So with all the instruction, there was no room for a photo shoot!
Kids in the Kitchen
I couldn't believe it, but in helping me from start to finish, not just assisting in one part of the recipe, she ended up loving the soup herself.  Now, you must know, she never eats anything like this. Her involvement in the cutting of the cabbage with her scissors, stirring the onions and garlic in the pot, dumping in tomatoes and beans, all gave her ownership, which instilled a confidence in what she made. It was wonderful. Lesson learned.
Recipe Modifications
Now the great thing about soups is you can really tailor them to your liking. Here are some ideas for things you can add or substitute depending on your tastes or your pantry staples.
red kidney beans
diced carrot
diced celery
green beans
ground beef
diced bell peppers
Lipton Onion Soup mix
V-8 juice (replace for tomatoes and paste)
green onions
mushrooms
bullion
Here it is, I hope you enjoy it as much as we did.
Cabbage Soup
Ingredients
½ Napa Cabbage, chopped
2 tablespoons butter
2 tablespoons olive oil
½ yellow onion, diced
2 garlic cloves, minced
1 small potato, finely chopped
1 can cannellini beans, rinsed and drained
1 can diced tomatoes, with juice
1 small can tomato paste
5-7 cups chicken broth (vegetable or beef are good substitutes)
3-4 sprigs fresh thyme on stem (or 1 tablespoon dried thyme)
2-3 sprigs fresh oregano on stem (or 1 teaspoon dried oregano)
1 bay leaf
salt and pepper, to taste
Instructions
Melt butter and olive oil in a large stock pot or dutch oven, and saute onions and garlic until translucent. Add herbs on the stem and bay leaf and mix.
Drop in potatoes and cook about 2-3 minutes, then add cabbage. Cook 3-4 more minutes constantly stirring.
Pour in chicken stock to deglaze the pan (or remove the brown bits from the bottom of the pan).
Finish by adding all remaining ingredients: beans, diced tomatoes with juices, and tomato paste.
Season lightly, but you will need more before serving.
Bring to a boil, then reduce to a simmer for 30 minutes.
Serve in large soup bowls with lemon juice or Parmesan cheese as a garnish, and crostini.
Checkout my Cabbage Ingredient Exchange (a link up of cabbage recipes) for more ways to use cabbage.
Recipe developed by Kelly Hancock ©2010 Faithful Provisions. For personal use only. May not be reproduced, reprinted or distributed for capital gain without prior permission from Kelly Hancock.
Photo credit:  Food.com