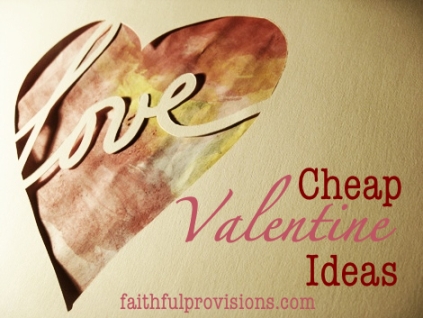 If you're looking for cheap Valentine's ideas, that doesn't necessarily mean you're cheap, right? Times are tough. If money can't buy you love, then there's hope that a great Valentine's Day doesn't rise and fall on how much money you spend. I've rounded up some pretty good ideas for an inexpensive Valentine's Day that will still be something special for the one you love.
Cheap Valentine's Day Gifts
A cheap Valentine's Day gift really just means it didn't cost you a lot of money. The time and care you spend on these "cheap" ideas means they really do cost you something.
Breakfast in Bed – No matter what time of day you serve it, breakfast is one of the most economical meals you can enjoy. See all my Breakfast Recipes HERE.
Flowers – Flowers can be less expensive when you go with what is in season for February. (And we've got all the best Flower Delivery Deals HERE.)
Undivided Attention – Turn off all forms of communication with the outside world, and try having a uninterrupted conversation and an evening focused on each other. That's a true gift that won't cost you a thing.
DIY Chocolate-Covered Strawberries – This easy recipe for homemade Chocolate-Covered Strawberries HERE creates a luscious treat that is very inexpensive when you make it yourself.
Find more ideas for a homemade Valentine's celebration HERE.
Romantic Valentine's Day Ideas for Moms and Dads
The people who need to celebrate their love the most, and remind each other how much they care, are parents! So how about a few romantic Valentine's Day ideas for moms and dads?
A Candlelight Dinner at Home – If you can get childcare off-site, like the kids' staying over at a grandparent's house, don't waste that precious time going out! Enjoy time in and alone with your spouse. (See my Valentine's Dinner recipe ideas HERE)
A jaunt down memory lane – Drag out the old photo albums and your wedding album. Did you keep any of your old love letters? Read them aloud.
Write him a letter. Tell him about the things that first attracted you to him, way back when. List several new things about him that you find attractive about him today. Be sure to tell him how much you appreciate him and everything he does for your family.
And I absolutely love this idea I found on Pinterest: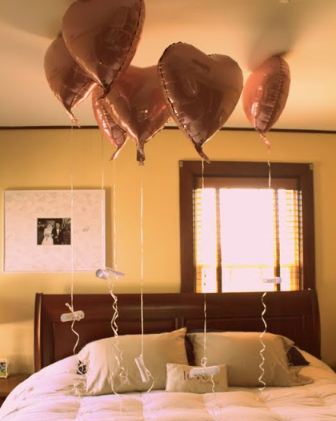 This idea (from the blog Crossing the Bugger-Dixon Line HERE) is simple. Get a helium-filled balloon for each of the number of years you have been married. What you see tied at the bottom of each string is a special memory from each year. So personal, so unique…so romantic!
Cute Valentines Date Ideas
These cute Valentines date ideas are mostly inexpensive–but they are fun! Enjoying each other and the time and conversation you have together is the important part.
Sunset date – Build a bonfire in the backyard and watch the sunset together. Bring along the marshmallows and blankets!
Playground date – Fill a bag with his favorite childhood candy, then drive out to a playground. Swing, slide, climb the bars, and just have fun playing together.
Mall date – Find a place that still has a mall photo booth. Go take pictures together!  Window shop, get a special treat or coffee at the food court, and enjoy just being a couple at the mall together.
Progressive Dinner date – Using coupons and groupons enjoy a progressive dinner. Go one place for an appetizer, somewhere else for the main course, then a different place for dessert. See inexpensive you can make this date with BOGO offers and freebies.
Karaoke – Always fun!
Museum date – Check on prices at local museums and art galleries. Many offer special Valentine's Day exhibits.
What are your plans for Valentine's Day? Are you planning on doing something inexpensive or more extravagant this year?