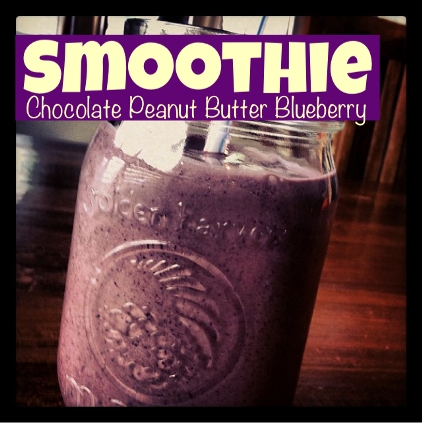 Your kids are going to love this recipe for a Chocolate Peanut Butter Blueberry Smoothie! It is so good, and as always, with a smoothie you can include some healthy add-ins that won't affect the rich taste at all.
I'm listing the ingredients that I used, but just know that you can and should use what you have on hand.  We use almond milk and natural peanut butter, but if you have skim (or whole) milk and regular (or crunchy) peanut butter on hand, use those.
TIP: These healthy add-ins will not affect the taste of your smoothie, but they will provide extra nutritional value. Try a teaspoon or so of: Chia seeds, flax seeds, or fish oil.
Chocolate Peanut Butter Smoothie
Ingredients
1 frozen banana
1 cup of blueberries
1 cup of almond milk (or whatever kind of milk you have on hand)
2 tablespoons of peanut butter (your favorite)
1 tablespoon of cocoa or cacao powder
Instructions
Put everything in your blender or Vitamix to process.
Pour into glasses and enjoy!
I love using my Vitamix  for smoothies. Since we make smoothies just about every day, this was a great investment for us because it is industrial grade and makes smoothies just like you would get a smoothie place.
Check out all my beverage and smoothie recipes HERE.