When it comes to Christian Father's Day gifts, there really is a lot to choose from because there is so much out there! Bibles, books, devotionals, DVDs–you name it!
Christian Books as Father's Day Gifts
You can always find great Christian books as Father's Day gifts, especially since there are so many great Christian parenting books available.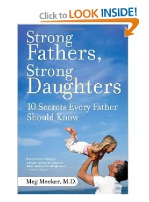 For fathers of daughters: Strong Fathers, Strong Daughters: 10 Secrets Every Father Should Know by Meg Meeker
For fathers of sons: Raising a Modern-Day Knight: A Father's Role in Guiding His Son to Authentic Manhood by Robert Lewis
Devotionals:
A New Bible for Dad
If you're looking for a new Bible for Dad, be sure you know which version he prefers. There's an easy way to find out. Take a familiar passage, such as John 3:16 or Psalm 23, and have him look at it in several different versions. Most people can pinpoint the version they prefer this way, and it makes it easier to make a selection. Often people ask me what version the Faithful Provisions' Daily Verse is. It is the New Living Translation (NLT). Find several different Bibles for Men in the New Living Translation HERE.
You can accompany the gift of a book or Bible with homemade bookmarks from the kids or any of these inexpensive Father's Day gift ideas.
More Christian Gifts for Dad
Here are a few more Christian gifts for Dad that really support him in his role as a parent. (I have suggestions and tips for more Father's Day present ideas HERE that you can make yourself or purchase.)
MORE FROM COURAGEOUS: I loved the movie, "Courageous," and DaySpring has lots of great Courageous gifts for Dads HERE, including perpetual calendars, framed prints of "The Resolution," journals, and more.
Want to do it yourself? Be sure to check out all the great ideas for handmade Father's Day gifts on Faithful Provisions.

Do you have a favorite Christian book or movie that you think is a perfect Father's Day gift? I'd love to know what it is!