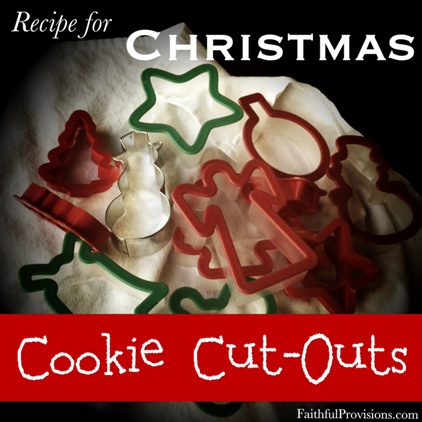 Technology may have changed everything about the way we shop for Christmas, but when it comes to great Christmas recipes, like this Christmas Cut Out Cookies recipe, it's just like you remember from when you were a kid: the flour, the sugar, the warm kitchen…the way the dough squished between your fingers. Christmas is all about memories–let's make some today with our kids!
Icing Cut Out Sugar Cookies
The essential foundation for decorating your cookies is the icing. Cut out sugar cookies are great on their own, of course, but it's a lot more fun to turn a cookie into a piece of art! There are basically 3 ways to decorate holiday cut out cookies, and each one begins with a great icing.
My recipe for cookie icing is easy, simple, and traditional. Stir together:
1 cup powdered sugar
1 tablespoon milk (or water)
1/2 teaspoon vanilla flavoring
Don't worry if it seems too thin at first. Once it dries, it hardens into a smooth glaze. (Add more powdered sugar if you want to make it thicker. Add more milk (or water) for a thinner glaze.)
3 Ways to Decorate Holiday Cut Out Cookies
So here are your three ways to decorate cut out sugar cookies:
1. Skip the Icing — You can actually just dust the tops of your sugar cookies with sugar. I highly recommend going with turbinado sugar, especially if you want very pretty cookies. Turbinado sugar will give your cut out cookies more of a professional, bakery look. Personally, this is my favorite presentation of these easy sugar cookie cut outs.
Get the recipe for my simple Christmas Sugar cookie recipe for cut out cookies HERE.
2. Colored Icing — When you add a few drops of food coloring to the icing mix, you can really decorate your Christmas cookies in a variety of ways. It's a lot of fun for the kids to have different colors of icing. They unleash their creativity and create some Christmas cookie masterpieces.
3. White Icing plus Sugar — Use the icing mix (made with milk) to create a really white icing, and then sprinkle with natural colored turbinado sugar. This is a very elegant looking cookie.
*Another sugar option: Sprinkle colored sugar on your cookies for a more festive, fun look.
Find more of the Best Christmas Cookie Recipes on Faithful Provisions!