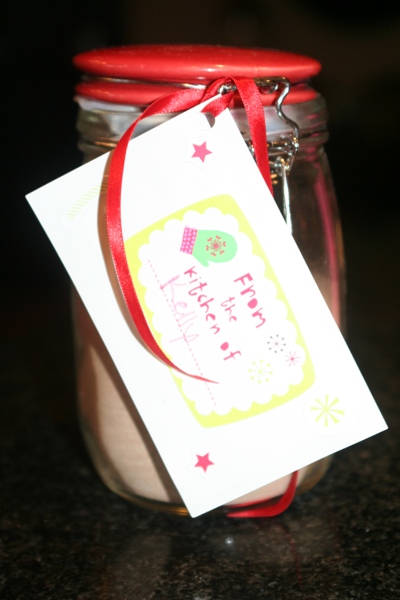 I truly love to make and receive homemade gifts. I'm amazed by the creativity of some of the items I see that are homemade and hand-wrapped. And I think that I love creating them as much as I love receiving them–especially when it is an activity that I can share with my children, or when it is something that gives me an excuse to get together with another mom!
If you're thinking about creating some beautiful gifts from the comforts of your own kitchen, here are some recipes you can use. Before you begin, get organized with my Prep Day Planner. You'll be amazed at what you can accomplish with a little planning!
Pumpkin Bread — I put these in mini loaf pans, wrap in a cellophane bag, and tie with a twistie or ribbon. These are great for making ahead, then storing in the freezer. Simply take them out of the freezer the night before you will be giving them away. Also try my Cranberry Pumpkin Bread.
Kelly's Homemade Granola — You can package this in plastic, stay-fresh containers, or take some time looking through thrift shops and Goodwill for pretty glass canisters or jars.
Almond Joy Trail Mix — This is so delicious, and now is a good time to find almonds on sale, usually with the other baking supplies at your grocer's.
Creamy Chocolate Fudge — You will love making this, sampling it, and making pretty packages of it to give away! This is my mom's recipe and it is amazing!
Hot Cocoa Mix –Hands down, my kids' favorite.
Hot Spiced Tea — This is the traditional holiday spiced tea that is made with Tang. So festive!
Vanilla Chai Tea Mix — I love making this one because it is so unique. Smells great, too.
Take a look at these great DIY homemade gift ideas for beauty and bath items:
Lavender Mint Foot Scrub (or Bath Salts) — I spent a day with my sister making these special skincare items as a wedding gift for my other sister. We also made a Lemon Mint Shower Gel. We had a great time doing this and even got to include my daughter who was eager to help.
:: Read about the process for making these natural bath items HERE.