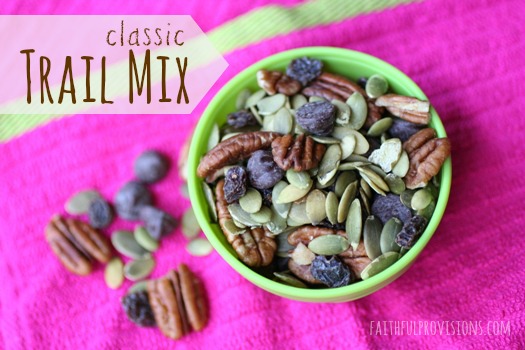 This recipe for trail mix is the one you are probably most familiar with. If you are looking for how to make trail mix with the classic combination of seeds, nuts, and raisins, this is a trail mix recipe that is pretty standard.
*Scroll down to use print recipe feature and add to your Recipe Box.
When it comes to snack recipes, trail mix is a much healthier option than the sugary, calorie-laden options that are available. Plus, it is not hard to make. In fact, once you begin keeping your own trail mix on hand, you will find great ways to alter this recipe with different add-ins that your family prefers.
Classic Recipe for Trail Mix
Ingredients
1 cup each:
Almonds
Cranberries
Walnuts
Cashews
Pumpkin Seeds
Raisins
Banana Chips
Instructions
Mix well.
Combine all items into a air-tight container, or separate into ⅓ cup - ½ cup portions in snack-sized zipper bags. This Classic Trail Mix should be good and stay fresh-tasting for a week.
You might also like:
Recipe developed by Kelly Hancock ©2010 Faithful Provisions. For personal use only. May not be reproduced, reprinted or distributed for capital gain without prior permission from Kelly Hancock.