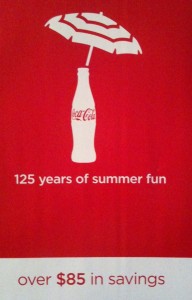 Southern Savers is reporting that there is a new coupon booklet out and many of you Coke lovers will want this one!
The new Coca-Cola Coupon Booklet is called "125 Years of Summer Fun" and is filled with coupons and other deals related to Coke products and attractions. It is being seen at Publix, but you should be able to find this at many other stores, so let us know when and where you find it.
Here is a list of what you will find in the booklet.
$2 off large Coca-Cola fountain drink at particpating AMC Theatres. (exp 8/31)
Enter the code COKE to get $5 off any 2011 CONCACAF Gold Cup ticket.
1 general admission ticket to Six Flags for the price of a junior ticket. (exp 9/25)
Stay 1 night at Sheraton Hotels & Resorts and get 40% off your 2nd night.
$10 off a Southwest Airlines Ticket Purchase.
These are manufacturer coupons that expire on June 31, 2011.
$1/2 Betty Crocker Suddenly Salad mix
$1/3 Coca-Cola product, 12 pk
$1/2 Dixie Ultra plate or bowl
$1 off Herdez salsa, 16 oz +
$1/2 Keebler or Sunshine multipks, 12 ct +
$1/2 La Banderita or Ole corn or flour tortillas
$1/2 MorningStar Farms Veggie Foods product
$1/2 Snyder's of Hanover pretzels, 8 oz +
$1/2 Sunshine Cheez-Its, Keebler Town House crackers, or Keebler Club cracker, 7.5 oz +