This is one of my favorite dishes.  I usually make it each time I do my Roasted Sticky Chicken recipe, and I will double the recipe and freeze one 8×8 pan.  I serve it with black beans and mexican rice packets from Knorrs (or whatever rice I have on hand!).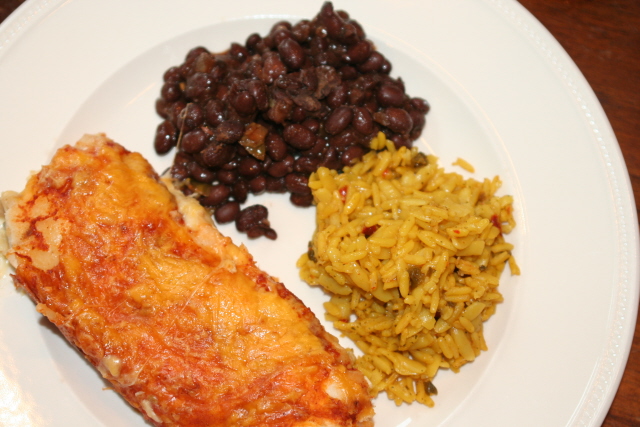 Here is all you do…
Chicken Enchiladas
1 1/2 – 2 cups cooked chicken, cubed or shredded
4-5 medium tortillas (depends on how much you fill them)
1 can cream of chicken soup
8 oz sour cream
1 can diced green chiles
1 can enchilada sauce
1-2 cups shredded cheddar cheese
Preheat oven to 350 degrees.
Combine chicken, soup, sour cream and green chiles and mix to make filling.
Spray an 8×8 pan.  Fill each tortilla with about 1/2 cup filling, and roll up and place seam side down.  Continue until mixture is used or you run out of room.  If you add a little more chicken, you might get 2-8×8's out of this.
Pour enchilada sauce over, and cover with cheese.
Bake covered for 15 minutes, and 10 minutes uncovered.
Garnish with things like… green onions, diced tomatoes, sour cream, hot sauce (my fav!), whatever you like!
Black Beans
1 can black beans
1-2 T salsa
1 T chili powder, cumin and/or coriander
Place all items in sauce pan and bring to simmer and cook until liquid is thick.
Recipe developed by Kelly Hancock ©2010 Faithful Provisions. For personal use only. May not be reproduced, reprinted or distributed for capital gain without prior permission from Kelly Hancock.