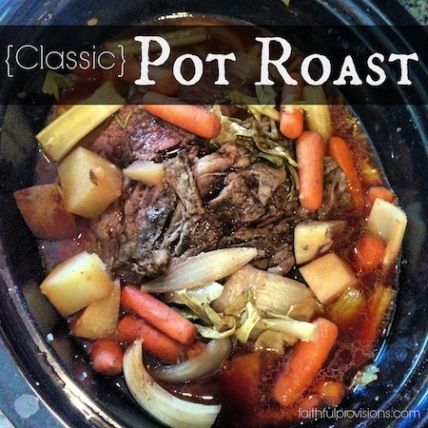 This is our absolute favorite meal, my husband loves the taste and the way the house smells when I cook it… well, it's mouthwatering. I love all the extra easy meals I can make out of it. I can usually get 2-3 more meals out of it for our family of four.
My favorite meals to turn the beef into are:
Beef Enchiladas
Crockpot Texas Chili
Vegetable Soup (recipe coming soon)
My family likes the classic sides like wheat rolls,  mashed potatoes, and green peas.  When I find bags of potatoes on sale, I will have a Kitchen Prep Day and pull together some freezer mashed potatoes. I frequently find frozen veggies on sale, so this cuts way down on our overall meal costs.
** You can use any root vegetables you have like; turnip, parsnip, butternut squash, sweet potatoes, mushrooms or celery root. I just throw in what I have on hand. Also, in the picture, I ran out of onions, so I had to put them in after my grocery run, which was only 2 hours before we ate. It still turned out great!
Classic Pot Roast
Ingredients
1 – 3-5 lb beef roast
2-3 carrots, roughly chopped
1 onion, quartered
2-3 celery stalks, roughly chopped
2 cups warm water
1 packet Lipton Onion Soup Mix
Instructions
Dump beef and veggies into pot.
Out of the tap, get the water warm and mix w/ soup mix.
Pour over beef and all in crockpot.
Sprinkle w/ salt and pepper.
Cook on low for 8-10 hours.
More Slow Cooker Meals:
Recipe developed by Kelly Hancock ©2010 Faithful Provisions. For personal use only. May not be reproduced, reprinted or distributed for capital gain without prior permission from Kelly Hancock.