In my meal plan this week we had grilled pork chops, hashbrown potato casserole, a green salad and garlic texas toast. Recipes are below for pork rub and hashbrown casserole.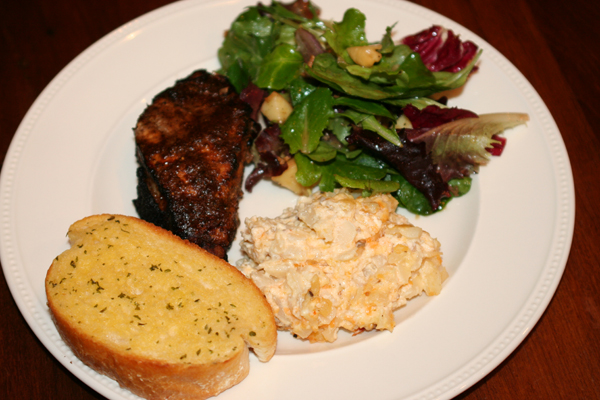 Here is what I do to to make it a quick and easy meal:
Day before: put frozen pork and casserole in refrigerator
2 hours before grilling: marinate pork in the rub recipe below
While meat is marinating: Toss thawed casserole w/ a little sour cream (this makes it creamier, once it is frozen the creamy factor isn't as good!).
Relax for an hour and a half (Yeah right!).
30 minutes before dinner time: Put chops on grill, then place casserole in glass oven-safe dish and put in oven for about 20 minutes, or right before chops go on grill. Let it sit a few minutes to cool before serving.
10 minutes before you pull chops off: ** Put texas toast or bread in oven to toast. ** Toss lettuce, chopped apples and walnuts in dressing (2T olive oil, 1 T red/white/rice vinegar, squirt of dijon and honey, salt & pepper, and whisk) I make dressing in bottom of bowl first, toss apples to keep from getting brown, then put walnuts and lettuce on top. I toss at table. ** If you follow this order, you will have a nice warm meal where everything is ready at once!
Pork Chop Rub

2 Tbs Extra-Virgin Olive Oil
2 Tbs Worcestershire Sauce
2 tsp Cracked Black Pepper
2 tsp Chili powder
2 tsp Granulated Garlic
2 tsp Kosher Salt
1 tsp Cumin
1/2 tsp Cinnamon
I LOVE this casserole. It is made up of all my staples and I always make it around the holidays or when I sign up to bring a dish to a potluck. To cut back on fat, I use the reduced fat cream of chicken soup and light sour crea. I use full fat cheddar, because it is not as good with the reduced fat (in my opinion).
I hope you enjoy it!
Hashbrown Potato Casserole

1/2 cup butter, melted
1/2-1 tsp salt
1/4 tsp black pepper
1/4 tsp garlic powder
1/4 tsp Ms Dash (optional)
2 cups shredded cheddar cheese
1 can cream of chicken soup
1 16 oz tub sour cream (about 2 cups)
1/2 cup onion, chopped
1 32 oz pkg hashbrown potatoes, frozen
1/2 – 1 cup Ritz cracker crumbs (optional)

Combine all ingredients except for potatoes and crackers, then fold in potatoes. Pour into 9×13 baking dish (or 2-8×8's) and top w/ cracker crumbs.

Bake at 350 degrees for 45 minutes.

** This is a great freezer meal, but once I unthaw it I always toss it w/ about 1/2 to 1 cup of sour cream to make it creamy again!
If you are viewing this in a reader or vial email, click here to see this posts comments.