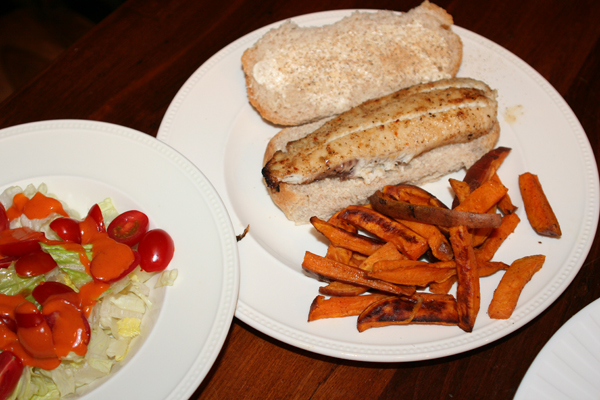 It's that time of year again, to fire up the grill!  My husband loves to grill and he can make a mean grilled tilapia fillet!  So, I am working on pulling out all my grill-worthy recipes and meal plans for the coming months.  Not only is it easier on me (because he is cooking!), but a much healthier way to feed my family.
Last week we pulled out a few frozen tilapia fillets and put them on some whole wheat hoagies with sweet potato fries and a simple green salad.  You can see my recipe and a few other fish recipes here.  Sweet potatoes were a great price last week at Publix, so I stocked up enough to have sweet potato fries for dinner, and more to put into the freezer!
Sweet Potato Fries
Ingredients
Sweet potatoes, sliced into quarter inch slices
Olive oil, drizzled
Salt & pepper, to taste
Dash of cinnamon (optional)
Instructions
Preheat oven to 450 degrees.
Slice sweet potatoes and toss with all ingredients.
Arrange on baking sheet in a single layer.
Roast for 15-20 minutes, or until soft.
Cook's Tip:  To freeze, place wax paper on baking sheet (after it cools), arrange cooked sweet potato fries in a single layer and freeze for about 2 hours.  Pull up wax paper and dump frozen potatoes into a freezer zipper bag.  Voila!  Sweet potato fries for later.
What are your favorite recipes to do with extra sweet potatoes, any good freezer recipes when the price is low for stock-up opportunities? Leave us your recipes and comments below.
If you are viewing this in a reader or via email, click here to see this posts comments.