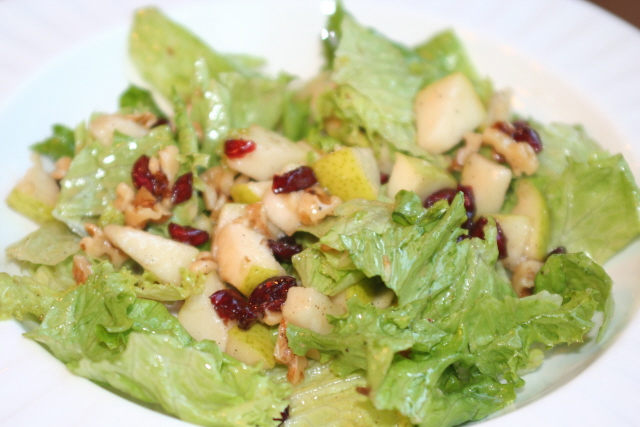 This is one of my favorite salads, and after all the junk I have eaten lately, I badly needed and craved a salad–this did just the trick.
I served this salad with my whole wheat french rolls.
Pear Walnut Salad with Honey Dijon Vinaigrette
Ingredients
For the Salad:
Green leaf lettuce, coarsely chopped
Craisins
1 pear, diced
¼ cup chopped walnuts
Feta or Parmesan cheese
For the Honey Dijon Vinaigrette:
3 tablespoons olive oil
1-2 tablespoons vinegar (I like white wine, white balsamic, or red wine vinegars)
1 teaspoon honey
1 teaspoon Dijon mustard
Salt and pepper
Instructions
Combine ingredients for dressing in bottom of large salad bowl.
Toss pears in mixture first to keep them from turning brown.
Add remaining salad ingredients and toss well.
Recipe developed by Kelly Hancock ©2010 Faithful Provisions. For personal use only. May not be reproduced, reprinted or distributed for capital gain without prior permission from Kelly Hancock.