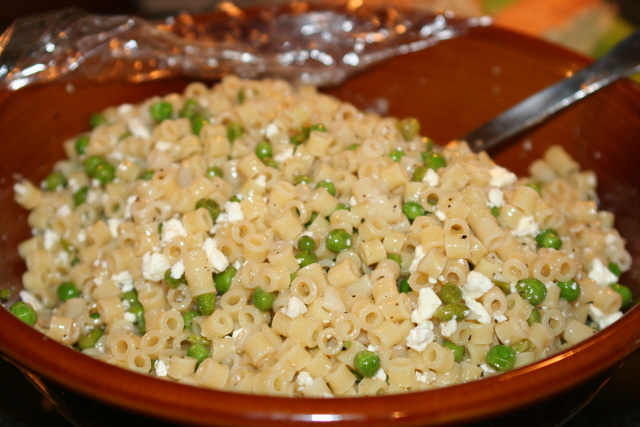 My friend Amy introduced me to this Savannah Pasta Salad. I love summer pasta salads, and this one is so good and really easy.  Because it doesn't necessarily have to be served cold, and because it contains no mayonnaise, it is perfect for any type of cookout or party where food might be left outside for a while. (Think July 4th recipes!)
Now, my picture doesn't look as pretty because I forgot the parsley!  (I can't believe I did that–I had plenty of it in the garden.)
A few tips with this recipe:
Trade out any small sized pasta you like. I used ditalini.
Use your favorite garden vegetables: Omit the ones you don't care for, and add your favorites!
Make extra dressing as a salad dressing for green garden salads. This dressing is so good!
Omit the fresh parsley if you don't have it readily available in a garden. It is used mostly for color and presentation, not taste.
Savannah Pasta Salad
Ingredients
For the Salad
1 box elbow macaroni
1 cucumber, peeled & diced
1 onion, diced (red, green onion, or shallots are great too)
½ cup celery, diced
1 cup bell pepper
¼ cup fresh parsley, chopped
1 cup frozen peas (I used a whole bag!)
Crumbled feta (if you like)
For the Dressing
¾ cup apple cider vinegar
¾ cup olive oil
1 cup sugar
1 teaspoon garlic powder
1½ teaspoon pepper
1 teaspoon salt
2 teaspoons ground mustard
Instructions
Cook and rinse noodles under cold water.
In a small saucepan, bring to a boil vinegar, oil and sugar – remove and cool. Combine remaining dressing ingredients.
Combine all salad ingredients, toss with dressing.
Head over to my Recipe Box for more Salad Recipes!