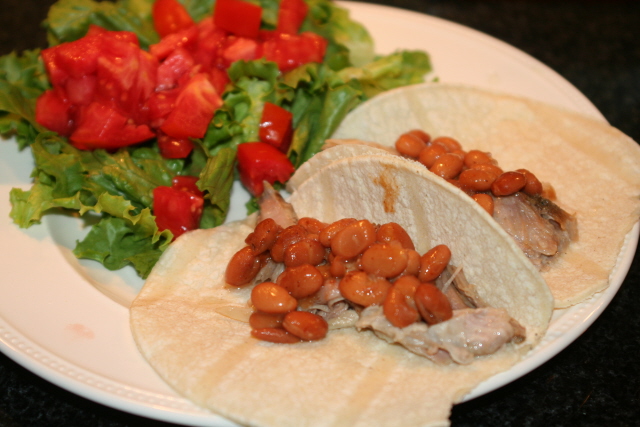 My friend Meredith sent this recipe to me a few weeks ago, and I have been DYING to try it.  I added it on this week's meal plan, and I am now trying to think of the best ways to morph this.  I made a 6 lb roast, and have at least 3/4 of it left!  So, one reader sent me creamy taquitos, and I am doing some pork dumplings with an asian slaw next week.  I will not make these until Monday or Tuesday. The pork will be fine in the fridge for a few days, and if there is any left I will just freeze it.
*Scroll down to use print recipe feature and add to your Recipe Box.
I served these with corn tortillas (my favorite!), and pinto beans (can pinto beans, 1 T salsa, dash of cumin, chile powder, coriander), fresh salsa, and limes.  I also made a green salad with tomatoes and used my favorite Taco Salad dressing.
Cooking 101: Slow Cooker Pork Carnitas
Ingredients
1 teaspoon salt
1 teaspoon garlic powder
1 teaspoon ground cumin
½ teaspoon crumbled dried oregano
⅛ teaspoon ground coriander
½ teaspoon dried cilantro
1/16 teaspoon ground cinnamon (i.e. just a pinch)
1 (4 pound) boneless pork shoulder roast or Boston butt, etc.
2 bay leaves
2 cups chicken broth (I used less than 1 cup.)
Instructions
Mix together spices in a bowl.
Coat pork with the spice mixture. (Can leave in fridge overnight or put in cooker immediately). Place the bay leaves in the bottom of a slow cooker and place the pork on top.
Pour the chicken broth around the sides of the pork, being careful not to rinse off the spice mixture. (If you have a larger cut of meat – 8 pounds for example – you can double the spice mixture – but you still only need 1 can of chicken broth for the liquid).
Cover and cook on low until the pork shreds easily with a fork, about 9 hours.
Turn the meat after it has cooked for 5 hours.
When the pork is tender, remove from slow cooker, and shred with two forks.
Serve with corn tortillas, pinto beans, fresh salsa and limes.
Any great ideas for me to morph the leftover shredded pork with? I would love to see your ideas in the comments.
Recipe developed by Kelly Hancock ©2010 Faithful Provisions. For personal use only. May not be reproduced, reprinted or distributed for capital gain without prior permission from Kelly Hancock.