This recipe came out of my craving for lasagna one night, but I didn't have any ricotta – only cream cheese and I had a lot of fresh spinach I wanted to use. I found that the cream cheese, adds a rich, creamy layer and a depth of flavor, which tastes so much better than ricotta. Cream cheese is also cheaper and I usually have it on hand.
Another great thing about this dish is that you don't precook the noodles, which is a huge time-saver and much easier! I prefer my pasta noodles "al dente", and if you use a lot of sauce and let it sit a while before you cook it, the noodles turn out perfect. When I use precooked noodles they always turned out mushy. This recipe is so easy and so good.
Spinach Cream Cheese Lasagna
7-8 uncooked lasagna noodles
1-2 jars pasta sauce, (or 1 jar and 1.5 cups leftover homemade spaghetti sauce)
4 ozs cream cheese
1 cup fresh spinach
2 cups shredded mozzarella cheese
1. Preheat oven to 425 degrees.
2. Take an 8×8 pan and spread enough pasta sauce on the bottom to make a think layer to coat the bottom of the pan. Lay one layer of noodles out. You will have to break them. I fill in the sides and open spaces with broken noodles to make a nice layer.
3. Cut the cream cheese into thin slices, or dollops and just evenly lay on top of the dry noodles. I usually have a slice left to use on top layer.
Tip: An alternative to dropping cream cheese dollups, is to combine the cream cheese in a pan with about 1/2 – 1 cup of chicken broth, to make a thick sauce.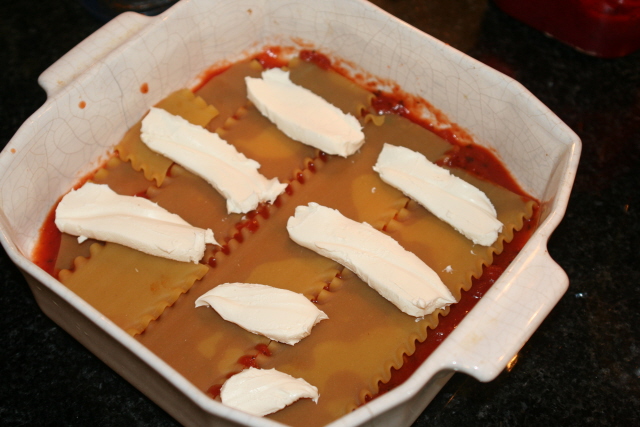 4. Cover this layer with fresh spinach, then top with pasta sauce and mozzarella cheese.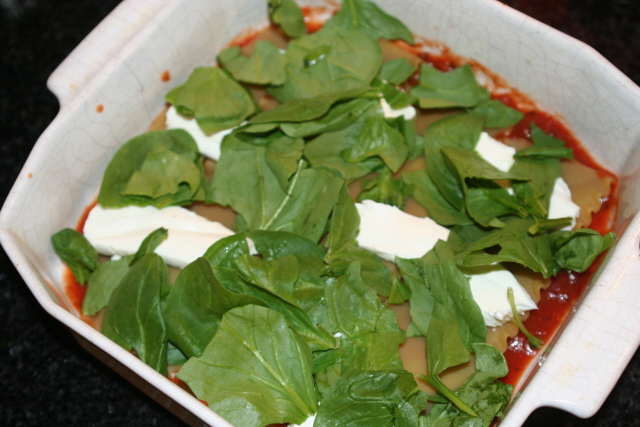 5. Add another layer of noodles. Top with sauce, then remaining cheese, and if I have any cream cheese left, I just put dollops on the top spread out.
6. Let sit for about 15-30 minutes. The liquid from the sauce helps begin to soften the noodles.
7. Cook covered for 30 minutes, then uncovered another 10-15 minutes to brown the top.
8. Let sit for about 10 minutes before slicing to allow it to firm up. Enjoy!
Looking for more money saving recipes? Check them out in my Cooking 101 series here.
Recipe developed by Kelly Hancock ©2010 Faithful Provisions. For personal use only. May not be reproduced, reprinted or distributed for capital gain without prior permission from Kelly Hancock.