In my meal plan this week, I had Tomato Basil Soup for Sunday's dinner, and man was it good! Below I'll give you my version of it. I changed a few things around to make it more affordable and tastier for me.
** This freezes well, and is great with any kind of bread, or just grilled cheese sandwiches!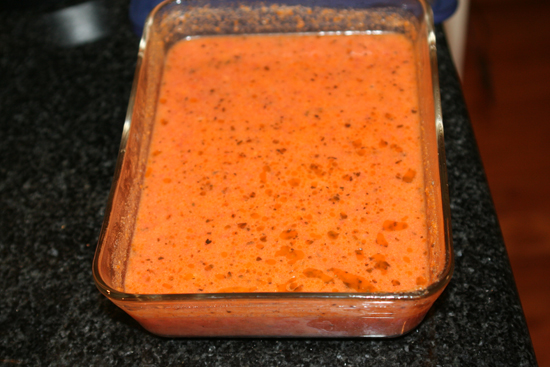 Here is my version. The picture was taken right before I put the leftovers in refrigerator.
Tomato Basil Soup

1/2 to 1 onion, thinly sliced
2-3 garlic cloves, minced or 1T jarred
28 oz of crushed tomatoes, or puree diced (but leave it a little chunky for some texture)
1 cup whole milk
1 can chicken broth
6T butter
2 tsp dried basil

Sautee onions and garlic in olive oil (about 1T) until soft.
Add crushed tomatoes and chicken broth. Bring to boil, then reduce heat and simmer for about 10 minutes.
Add basil, reduce heat to low; stir in cream and butter. Cook until butter is melted.