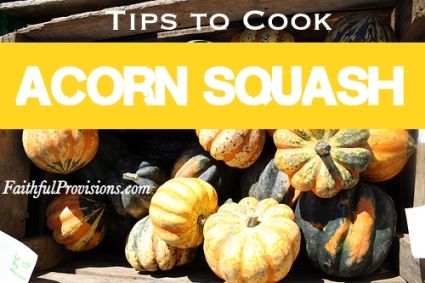 If you want to try some winter squash this year, cooking acorn squash may be the best one to start with. Acorn squash is a close cousin of the summer squash that you may be more familiar with, like zucchini and yellow crookneck squash. It's named after the acorn because of its shape—not size! It's actually a perfect, hearty size for stuffing with rice, meats, and other vegetables. (Try my recipe for Stuffed Acorn Squash with Wild Rice and Goat Cheese.) The acorn squash is sweeter than most winter squash, but it's not as rich in beta carotene as some of the others. It is a great source of fiber, however, and potassium.
How to Cook Acorn Squash
Choosing how to cook acorn squash is easy for me–I prefer to roast or bake it. But there are so many things you can do with it. You can microwave acorn squash, saute it, and steam it. (Learn different methods for cooking squash HERE.)  You'll need a very sharp knife for cutting it open and removing the seeds. I find that it's much easier to remove the skin after baking it.
Baked Acorn Squash
Acorn squash is abundant in the fall, and I'm always looking for new recipes to try with it, especially for baking. I love adding the butter, brown sugar, cinnamon, and honey (or maple syrup) to bring out that rich, sweet, nutty-ish taste of fall. This is a wonderful side dish for chicken or fish. You'll love this recipe for baked acorn squash HERE.
Recipe for Acorn Squash Pasta
Stay tuned for more upcoming recipes for acorn squash–it's the perfect fall dinner!
What is your favorite recipe for fall's acorn squash? Will this be your first time to try it? Let me know what you think and how you are using it for healthy dinners with your family.