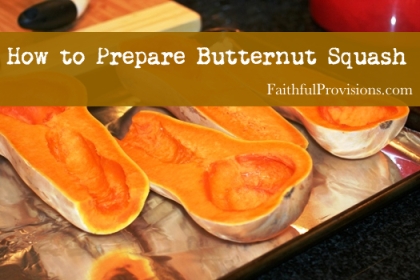 If you've never tried it, it's time for you to experience cooking butternut squash! Butternut squash has a nutty taste that is similar to pumpkin, but still, a distinct squash taste, sweeter than other squash. I will admit that I do think butternut squash is difficult to work with. It's really hard to cut, so rather than cut it and peel it with a knife, I recommend that you use a vegetable peeler. In spite of its difficulty, once you have tried a few recipes with butternut squash, or just served it roasted, you will agree that any extra time and effort on your part is absolutely worth it! It is unbelievably good.
How to Cook Butternut Squash
For me, learning how to cook butternut squash has been trial and error. If you find that peeling them is too difficult and time-consuming to do, you can opt for the way I have started cooking it. I just cut it in half, longways, and roast it flesh side up on a baking sheet. Then I scoop out the flesh and use it. It is much easier than cubing it. But if you have a recipe that calls for cubed squash, try this easy way to prepare it. (You can watch me go through these steps in the video below.)
Peel it.
Cut in half length-wise from stem to stem.
Take a melon scooper or a sharp spoon to clean out the guts, like you would a pumpkin or a cantaloupe. It is a bit trickier however, in that the guts of a butternut squash are a little more stubborn.
Now there are two ways you can go from this point. You can:
Cut it up into pieces and flash freeze it to use later. Or you can
Cut it into quarters and roast it. Roasted butternut squash is delicious with a side of roasted chicken. Or puree the roasted butternut squash and use it as a sauce, or even as a baby food. (This is also a great vegetable puree to use if you want to sneak it into other foods.)
Cooking Butternut Squash | How to Cook Butternut Squash
Instructions
Peel it.
Cut in half length-wise from stem to stem.
Take a melon scooper or a sharp spoon to clean out seeds and string.
Lay on baking sheet with flesh side up.
Roast on 400 degrees for 30-35 minutes.
Here are some great Butternut Squash recipes:
Butternut Squash Casserole Recipe (coming soon!)

Butternut Squash Lasagna (coming soon!)

You can learn how to cook squash using five different methods HERE.