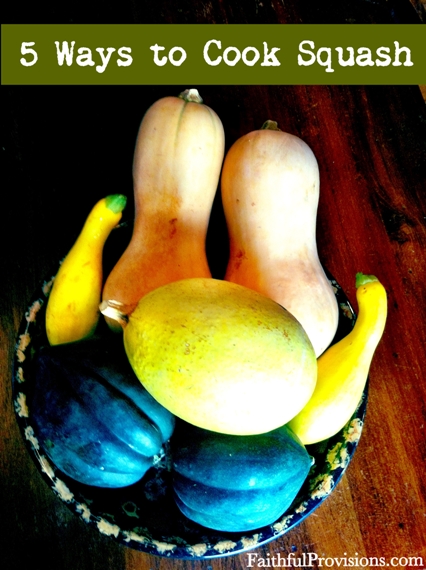 The produce aisles at my grocery store are full of gorgeous squash, so I know that in the days ahead, I'm going to be pulling out my squash recipes and cooking squash. How to cook squash is something that you can really vary according to what you are in the mood for. There are several different ways you can bring this vegetable to your table with all sorts of cooking methods. (Squash is one of my favorite vegetables! Can you tell?) Coming in all kinds of shapes and sizes, it's a vegetable that has different flavors, textures, and even personalities. You're sure to find the perfect fit for whatever kind of meal you are planning.
5 Ways to Cook Squash
There are five ways you can cook squash:
Roast/Bake
Grill
Saute
Boil
Steam
You'll notice I actually put roast and bake in the same category. You'll find there is a lot of discussion out there among professional cooks when it comes to the difference (and if there is one) between roasting and baking. Some make it really simple and say that "baking" is what you do with breads, cakes, casseroles, and pies, while "roasting" is something you do with meat or vegetables. I like to think of "roasting" as kind of an upgrade to baking. Typically, roasting is done at a higher temperature. I roast vegetables because I want them to get brown and caramelized, which lends a beautifully sweet taste. Of all these cooking methods, I prefer to roast or grill above the others. Both these methods are healthier options. Both bring out the flavor of the vegetables. My least favorite methods are to steam or boil. I feel like I have to add more stuff to it to make it tasty, and that "stuff" tends to be ingredients that aren't the best choices (like salt or cheese).
Cooking Butternut Squash: How to Cook Butternut Squash
I love cooking butternut squash. How to cook butternut squash doesn't begin until you prepare it, and as much as I love it, it is the most difficult of the squashes to work with. The skin is really tough. Once that is out of the way, however,  I love to roast it and get it good and caramelized. It has such a sweetness and it lights up the whole house. It reminds me of sweet potatoes. I love it in soups or on its own, just plain roasted. It makes the perfect side dish with fall and winter recipes. Learn more about cooking butternut squash, along with my favorite butternut squash base HERE.
Cooking Acorn Squash: How to Cook Acorn Squash
Acorn squash makes me think of fall. My favorite method of cooking acorn squash is again, to roast it. It's great grilled as well, and if you are in a climate that allows you to grill on more of a year-round basis, then this is a great squash for doing just that. I've got more on cooking acorn squash HERE, as well as some great recipes.
Cooking Spaghetti Squash: How to Cook Spaghetti Squash
Yes, spaghetti squash really looks like spaghetti noodles! How to cook spaghetti squash? I like to roast or bake it until it's so soft that I can just scrape out the insides. Discover more ways to cook spaghetti squash and some great recipes HERE.
Cooking Summer Squash: How to Cook Summer Squash
My preferred method of cooking summer squash (yellow squash, zucchini) is roasting, grilling or sauteing. I absolutely love to cook up a huge batch with onions and save for summer salads, or grilled vegetable quesadillas. Learn more about how to cook summer squash and some of my favorite recipes HERE.
 Okay, squash fans! What's your favorite squash? And why? And how do you prefer to cook it?