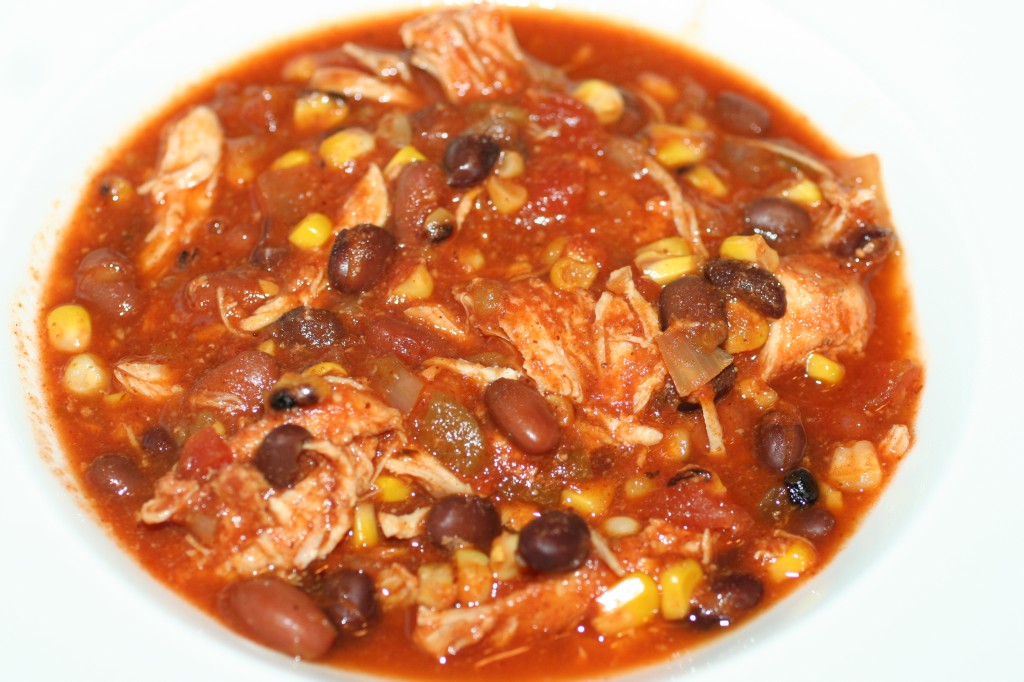 This is a recipe from my friend Jennifer. It makes plenty, filling my crock pot to the top. This is absolutely delicious, with just the right amount of zing. If you're love chili, this recipe offers you a little something different, using chicken and zesty taco seasoning rather than the traditional beef and chili seasoning. Try it with jalapenos on the top if you want some extra yum! Serve with the time-honored sides of corn chips and/or baked potatoes, or keep the taco theme going with sides like Black Bean Nachos  or Taco Salad.

Crock Pot Chicken Taco Chili
Ingredients
1 onion, chopped
1 16-oz. can black beans
1 16-oz. can kidney beans
1 8-oz. can tomato sauce (used a 16 oz. can instead)
10 oz. package frozen corn kernels (or 2 small cans of corn kernels)
2 14.5-oz. cans diced tomatoes w/chilies
1 packet taco seasoning
1 Tbsp. cumin
1 Tbsp. chili powder (I use a bit more if the tomatoes don't have chilies)
24 oz. (3) boneless skinless chicken breasts
chili peppers, chopped (optional)
chopped fresh cilantro
Instructions
Combine beans, onion, chili peppers, corn, tomato sauce, cumin, chili powder and taco seasoning in a slow cooker.
Place chicken on top and cover.
Cook on low for 10 hours or on high for 6 hours.
Half hour before serving, remove chicken and shred.
Return chicken to slow cooker and stir in.
Top with fresh cilantro.
Also, try it with low fat cheese and sour cream (extra points).
Check out these delicious soup recipes:
Recipe developed by Kelly Hancock ©2010 Faithful Provisions. For personal use only. May not be reproduced, reprinted or distributed for capital gain without prior permission from Kelly Hancock.