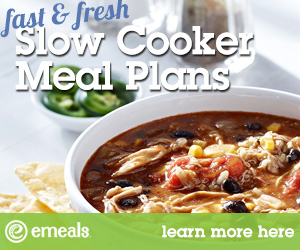 Crock Pot Menu | Save 15% On Meal Plans With Emeals
Emeals has just released their Slow Cooker Meal Plan in both Classic & Clean Eating.  With the Slow Cooker Meal Plans, you will receive five slow cooker recipes plus two quick & easy meals built on leftovers each week.  That's a great way to cook delicious meals, even on a busy schedule!
Plus, for a limited time, Emeals is offering 15% off all their meal plans when you enter code SLOW at checkout. That makes it only $4.10/month when you sign up for a year!  They have several all-natural & budget-friendly options available, including:
Clean Eating
Paleo
Low Fat
Low Carb
Portion Control (Weight Watchers)
You can even download a sample meal plan before you subscribe.  Plus you can download the eMeals app for your iPhone for FREE, making it even more convenient.
Don't have a slow cooker? No worries!  Right now, you can get this Hamilton Beach slow cooker for only $10!
Sign up for Emeals today and start saving on you dinner tonight!